I received a copy of Lost in the Never Woods in exchange for my honest review. All opinions are, of course, my own.
I'd like to thank Xpresso Book Tours for including me on this tour.
Title
Lost in the Never Woods
Book Details
Genre: YA Fantasy
Publication Date: March 23, 2021
Length: 384 pages
Publisher: Swoon Reads
ISBN: 9781250313973
Book Description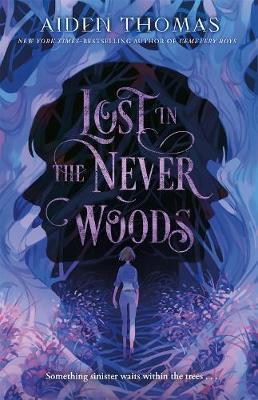 When children go missing, people want answers. When children go missing in the small coastal town of Astoria, people look to Wendy for answers.
It's been five years since Wendy and her two brothers went missing in the woods, but when the town's children start to disappear, the questions surrounding her brothers' mysterious circumstances are brought back into light. Attempting to flee her past, Wendy almost runs over an unconscious boy lying in the middle of the road, and gets pulled into the mystery haunting the town.
Peter, a boy she thought lived only in her stories, claims that if they don't do something, the missing children will meet the same fate as her brothers. In order to find them and rescue the missing kids, Wendy must confront what's waiting for her in the woods.
Author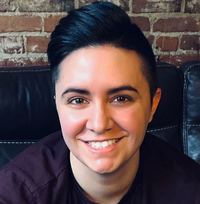 Aiden Thomas is a New York Times Bestselling author with an MFA in Creative Writing from Mills College. Originally from Oakland, California, they now make their home in Portland, Oregon. As a queer, trans Latinx, Aiden advocates strongly for diverse representation in all media. Aiden's special talents include: quoting The Office, winning Jenga, finishing sentences with "is my FAVORITE", and killing spiders. Aiden is notorious for not being able to guess the endings of books and movies and organizes their bookshelves by color.
Connect with Aiden on Aiden-Thomas.com, Twitter, and Goodreads.
My Thoughts & Takeaways
Despite having many of their books on my TBR list, I've never read a book by Aiden Thomas until now. But, holy hot damn.
Lost in the Never Woods made me love Peter Pan even more. I never disliked Peter Pan, but it wasn't my favorite either. But, I have a newfound love for it. This isn't a kids bedside story though. Nope, this is about some real, hard stuff. Real people stuff. The book explores trauma and mental health.
The story moves quickly but effortlessly. I loved Wendy Darling's character so much. She actually reminds me of myself a lot – especially my dealings with anxiety and PTSD. And, I loved how Aiden showcased Peter's shadow (or anyone's shadow for that matter).
This book has a bit of everything. Humor, happiness, magic, tragedy, representation, raw emotions, and much more. Definitely recommend!
a Rafflecopter giveaway