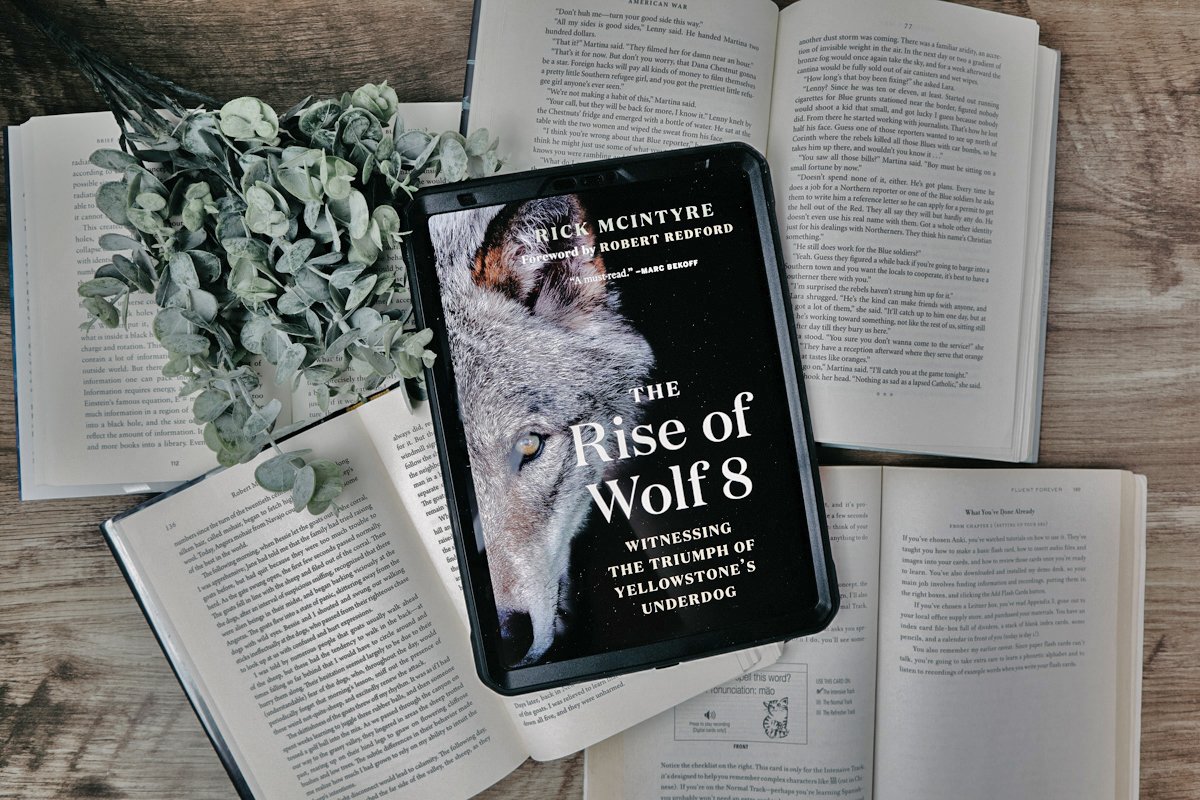 Interested in learning more about wolves or more about the reintroduction in Yellowstone in the 90s? The Rise of Wolf 8 is the perfect book!
I received a copy of The Rise of Wolf 8 from Edeilweiss+ in exchange for my honest review. All opinions are, of course, my own. 
The Rise of Wolf 8 Book Review
Title
The Rise of Wolf 8: Witnessing the Triumph of Yellowstone's Underdog
Author(s)
Rick McIntyre
Publication Date
October 15, 2019
Why I Picked It Up
I've always been fascinated by wolves, knowing that we can learn much by observing them. So, when I read the description of The Rise of Wolf 8 and that McIntyre dedicated his entire life to doing just that, I knew I had to read it. 
Famous First Words
"The story told in this book is an epic one, filled with heroes and heroines who struggle to survive and defend their families."
Book Description from Goodreads
Yellowstone National Park was once home to an abundance of wild wolves-but park rangers killed the last of their kind in the 1920s. Decades later, the rangers brought them back, with the first wolves arriving from Canada in 1995.

This is the incredible true story of one of those wolves.

Wolf 8 struggles at first-he is smaller than the other pups, and often bullied-but soon he bonds with an alpha female whose mate was shot. An unusually young alpha male, barely a teenager in human years, Wolf 8 rises to the occasion, hunting skillfully, and even defending his family from the wolf who killed his father. But soon he faces a new opponent: his adopted son, who mates with a violent alpha female. Can Wolf 8 protect his valley without harming his protégé?

Authored by a renowned wolf researcher and gifted storyteller, The Rise of Wolf 8 marks the beginning of an original and bold new trilogy, which will transform our view of wolves forever.
My Thoughts & Takeaways
First of all, I loved this book. I wish it hadn't ended because I felt fully invested in the wolves' lives. In fact, it makes me quite sad to know that all of these wolves are now, of course, gone. But, it gives me hope that their amazing legacies still live on in Yellowstone to this day – something that was once destroyed by humans.
McIntyre spent 40 years of his life watching wolves in America's national parks, 25 of those in Yellowstone alone. From June 2000 to August 2015, McIntyre went out in Yellowstone for 6,175 consecutive days – equal to fifteen years of daily trips in search of observing wolves.
Journaling every day, he kept an obviously thorough record. During one streak, he saw wolves 892 days in a row, and over the course of his career, he crossed over 100,000 sightings on January 27, 2019. 
You can tell this book is done with great dedication and meticulous precision, but also with great passion and obvious love for the wolves. 
I'm even more excited that this is book one in this soon to be trilogy and I can't wait to read more of my newfound wolf friends. 
More about the book specifically, Wolf 8 is obviously an inspiration. One of the first wolves introduced to Yellowstone in the 90s, he was legendary.
What began as a runt and picked on by his siblings, Wolf 8 grew up to be not only a wolf that other wolves could look up to but a wolf that humans could also look up to. 
What I Liked
The stories. The amount of note-taking that McIntyre must have done to tell the stories not only of just the different wolf packs but all the different wolves and make you feel like you knew them personally kind of amazes me. The fact that this was written (or at least published) 20 years later, even more so. 
The similarities between wolves and humans. While I'm of the opinion, that most animals (including wolves) are better than humans, it is fascinating to learn we share some similarities. 
Oxytocin – often called the "love hormone," oxytocin is released in father wolves (and the pups) when they play with their children.
Compassion – older siblings often let younger wolves win while roughhousing.
Unlike most predators, alphas will adopt orphaned pups.
What I Didn't Like
I usually like to give some form of constructive criticism but I can't really think of anything I didn't like except I didn't want it to end. However, given there are two more books to come, I suppose I'm satisfied. 
Favorite Quotes
"As I was soon to learn, it is the alpha female who makes most of the decisions for the pack, such as choosing the direction of travel, and the rest of the wolves, including the alpha male, follow."
"Neither the bear nor the eagle paid any attention to the wolf, but I would later see both species greatly benefit by having wolves in the pack."
"He was the founding father of a dynasty that continues in Yellowstone today." 
"That was the first time we documented a case of an unrelated male joining an existing pack after the death of its alpha male and adopting and raising the pups as if they were his own."
"That face licking by wolf pups is the reason pet dogs lick the faces of their human friends when they return home. For dogs, it is a greeting, but th behavior originated with their wolf ancestors and had a different purpose: begging for food."
"That is what being a wolf is all about: determination to succeed, regardless of how many setbacks you go through."
"I thought about a quote from Ali that poignantly summed up his life, as well as 8's" 'What I suffered physically was worth what I accomplished in life. A man who is not courageous enough to take risks will never accomplish anything.'"
Rating
4/5 stars