Title
Sky in the Deep
Book Details
Genre: YA Fantasy
Publication Date: April 24, 2018
Length: 340 pages
Publisher: Wednesday Books
ISBN: 9781250168450
Goodreads Choice Award Young Adult Fantasy & Science Fiction and for Debut Author (2018)
BookNest Award Best Debut Novel (2018)
Book Description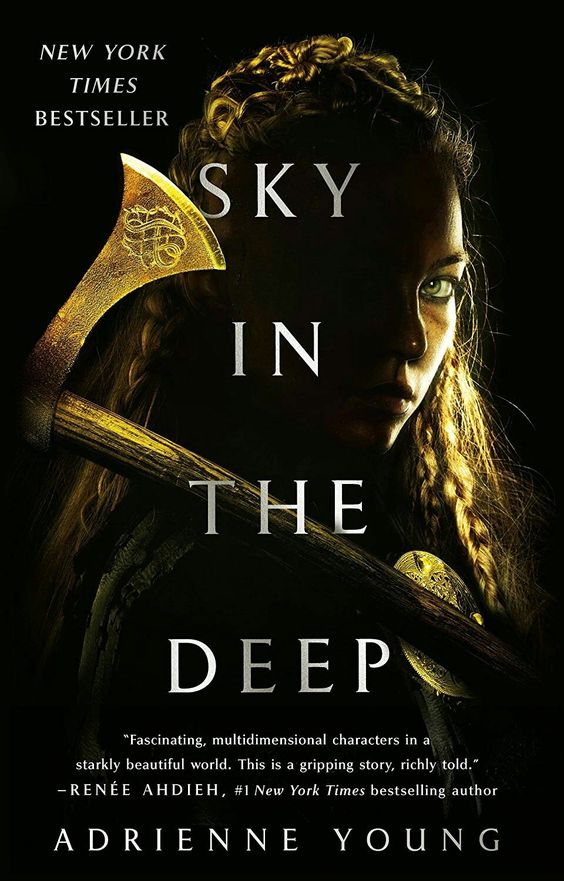 Raised to be a warrior, seventeen-year-old Eelyn fights alongside her Aska clansmen in an ancient, rivalry against the Riki clan. Her life is brutal but simple: fight and survive. Until the day she sees the impossible on the battlefield—her brother, fighting with the enemy—the brother she watched die five years ago.
Faced with her brother's betrayal, she must survive the winter in the mountains with the Riki, in a village where every neighbor is an enemy, every battle scar possibly one she delivered. But when the Riki village is raided by a ruthless clan thought to be a legend, Eelyn is even more desperate to get back to her beloved family.
She is given no choice but to trust Fiske, her brother's friend, who sees her as a threat. They must do the impossible: unite the clans to fight together, or risk being slaughtered one by one. Driven by a love for her clan and her growing love for Fiske, Eelyn must confront her own definition of loyalty and family while daring to put her faith in the people she's spent her life hating.
Author
New York Times and Indie bestselling author of SKY IN THE DEEP, THE GIRL THE SEA GAVE BACK, FABLE & NAMESAKE from Wednesday Books.
Adrienne Young is a born and bred Texan turned California girl. She is a foodie with a deep love of history and travel and a shameless addiction to coffee. When she's not writing, you can find her on her yoga mat, scouring antique fairs for old books, sipping wine over long dinners, or disappearing into her favorite art museums. She lives with her documentary filmmaker husband and their four little wildlings beneath the West Coast sun.
You can follow her on her website, Instagram, Twitter, and Goodreads. 
My Thoughts & Takeaways
Sky in the Deep by Adrienne Young follows Eelyn, a 17-year-old warrior raised to fight alongside her Aska clansmen against the Riki clan. Her life is brutal but her loyalty to her family and her clan make it simple as well. And, everything is what it is until it isn't – the moment she spots her brother on the battlefield fighting with the enemy. Only her brother died five years before in battle.
Eeek! This book has been on my list for a bit and I'm so glad I finally got to reading it. I'm also currently listening to Fable on audiobook. Can't wait to read the second book in both of these duologies!
Young's portrayal of the battle scenes was perfectly descriptive and really pull you in immediately. I found Eelyn to be a powerful female character in both her strength and ferocity but also her vulnerability and loyalty. And, I loved Fiske but I'm a big sucker for the enemies to lovers trope. But, his ability to also be loyal to a fault but also human and compassionate was a lovely side to male characters that I don't think we always see.
I love Viking related stories so I'm not surprised I loved this but I also loved the uniqueness of the story. I don't want to give away too much, but the way in which each character meets and reacts to betrayal was refreshing.
I need a movie. Right now.