Thank you to Crooked Lane Books and NetGalley. I received a copy of Teen Killers Club in exchange for my honest review. All opinions are, of course, my own. 
Title
Teen Killers Club
Author
Lily Sparks was born in Connecticut and moved to Los Angeles to work at Tumbleweed kid's camp and stayed to go to UCLA. She's had a million odd jobs and uses them to tell stories on screen, in animation, and in books.
You can follow her online on her website, Twitter, and GoodReads.
Publication Date
November 10, 2020
Famous First Words
"Prison is a lot like high school. The same institutional beige hallways, the same long hours of sitting in forced silence, and the same rigid social pyramid of cliques upon which your life depends. In both prison and high school, I've been a total loner."
Book Description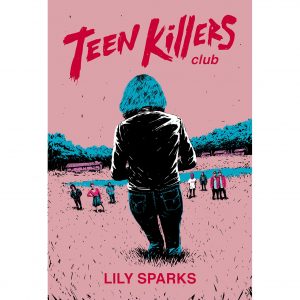 Framed for the murder of her best friend, a young girl joins a super-secret society of teenage assassins to avoid a lifetime behind bars–and discovers her own true self–in this mesmerizing debut novel.
Seventeen-year-old Signal Deere has raised eyebrows for years as an unhappy Goth misfit from the trailer park. When she's convicted of her best friend Rose's brutal murder, she's designated a Class A–the most dangerous and manipulative criminal profile. To avoid prison, Signal signs on for a secret program for 18-and-under Class As and is whisked off to an abandoned sleep-away camp, where she and seven bunkmates will train as assassins. Yet even in the Teen Killers Club, Signal doesn't fit in. She's squeamish around blood. She's kind and empathetic. And her optimistic attitude is threatening to turn a group of ragtag maniacs into a team of close-knit friends. Maybe that's because Signal's not really a killer. She was framed for Rose's murder and only joined the program to escape, track down Rose's real killer, and clear her name. But Signal never planned on the sinister technologies that keep the campers confined. She never planned on the mysterious man in the woods determined to pick them off one by one. And she certainly never planned on falling in love. Signal's strategy is coming apart at the seams as the true killer prepares to strike again in Teen Killers Club.
My Thoughts & Takeaways
Signal Deere is seventeen years old but her life is far from normal. She's convicted of killing her best friend Rose. On top of that, she's been deemed a "Class A" which in this world is the most dangerous and manipulative type of person. While in prison, she is offered a way out and signs up for a secret program. She is taken where she soon finds out she will be trained to be a proficient killer. But, Signal is innocent and thus has to fake being guilty so as not to appear weak around a bunch of teen killers. 
Lily Sparks delivers a unique young adult novel that I have a feeling I'll be re-reading. It has a strong American Horror Story: 80s vibe, but it is completely different at the same time. Additionally, this had many of the typical YA tropes but I felt as though they were done in unique ways as well which is important to me. I almost read the entire thing in one sitting and I definitely felt like I wanted to know more after it ended and I'm expecting a sequel. I'm looking at your Lily Sparks.