I received a copy of All That We Carried in exchange for my honest review. All opinions are, of course, my own.
I'd like to thank Revell Reads for providing me with a review copy.
Title
All That We Carried
Book Details
Genre: Contemporary Fiction
Publication Date: January 5, 2021
Length: 352 pages
Publisher: Revell
ISBN: 9780800738365
Book Description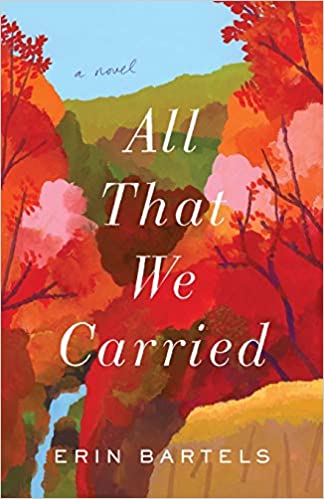 Estranged sisters embark on a hiking trip on the tenth anniversary of their parents' deaths in an attempt to reconnect. In the wilderness of Michigan's Upper Peninsula, they'll face their deepest fears, question their most dearly held beliefs, and begin to see that perhaps the best way to move forward is the one way they had never considered.
Author
Erin Bartels is the award-winning author of We Hope for Better Things (a 2020 Michigan Notable Book, winner of the 2020 Star Award from the Women's Fiction Writers Association in both the debut and general fiction categories, and a 2019 Christy Award finalist), The Words Between Us (a 2020 Christy Award finalist and a 2015 Rising Star finalist from WFWA), and All That We Carried (January 2021). Her short story "This Elegant Ruin" was a finalist in The Saturday Evening Post 2014 Great American Fiction Contest. Her poems have been published by The Lyric and The East Lansing Poetry Attack. A member of the Capital City Writers Association and the Women's Fiction Writers Association, she is former features editor of WFWA's Write On! magazine and current director of the annual WFWA Writers Retreat in Albuquerque, New Mexico.
Erin lives in the beautiful, water-defined state of Michigan where she is never more than a ninety-minute drive from one of the Great Lakes or six miles from an inland lake, river, or stream. She grew up in the Bay City area waiting for freighters and sailboats at drawbridges and watching the best 4th of July fireworks displays in the nation. She spent her college and young married years in Grand Rapids feeling decidedly not-Dutch. She currently lives with her husband and son in Lansing, nestled somewhere between angry protesters on the Capitol lawn and couch-burning frat boys at Michigan State University. And yet, she claims it is really quite peaceful.
Connect with her on her website, Instagram, Facebook, GoodReads, or Twitter.
My Thoughts & Takeaways
All That We Carried by Erin Bartels is a story about two estranged sisters, Olivia and Melanie Greene, who embark on a multi-day hike together in the Porcupine Mountains of Michigan's Upper Peninsula.
The sisters grew apart from one another after experiencing the grief of losing their parents. Both sisters are struggling to find purpose in life as well as questions about spirituality.
As an avid outdoors-person, I really enjoyed the hiking and camping aspects of the story.
I felt that the writing was overall well done, the sisters were relatable (if not always likable), and the overall story realistic.
I am not religious so this part of the story doesn't really matter to me (or excite me) but I knew it was Christian fiction going into it so I wouldn't hold that against it regardless.