I received a copy in exchange for my honest review. All opinions are, of course, my own.
I'd like to thank Blackthorn Book Tours for including me on this tour.
Title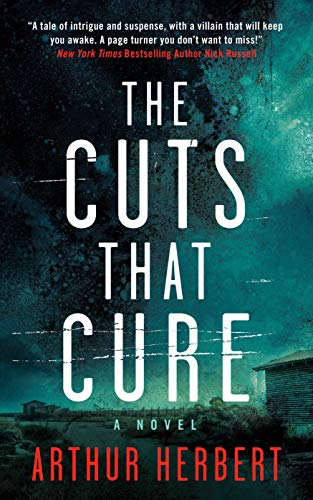 The Cuts That Cure
Book Details
Genre: Psychological Thriller
Publication Date: May 11, 2021
Length: 298 pages
Publisher: White Bird Publications
ISBN: 978-1633635128
Book Description
Alex Brantley is a disgraced surgeon whose desperation to start a new life outside of medicine leads him to settle in a sleepy Texas town close to the Mexican border, a town that has a dark side. Its secrets and his own past catch up with him as traits he thought he'd buried in the deserts on the frontiers of the border rise up again to haunt him.
To the citizens of Three Rivers, Henry Wallis appears to be a normal Texas teenager: a lean, quiet kid from a good family whose life seems to center around running cross-country, his first girlfriend, and Friday night football. That Henry is a cultivated illusion, however, a disguise he wears to conceal his demons. Both meticulous and brutally cruel, he manages to hide his sadistic indulgences from the world, but with that success, his impulses grow stronger until one day when a vagrant is found murdered.
When Alex and Henry's paths cross, it starts a domino effect which leads to mangled lives and chilling choices made in the shadows along la frontera, where everything is negotiable.
Author
Arthur Herbert was born and raised in small town Texas. He worked on offshore oil rigs, as a bartender, a landscaper at a trailer park, and as a social worker before going to medical school. He chose to do a residency in general surgery, followed by a fellowship in critical care and trauma surgery. For the last seventeen years, he's worked as a trauma and burn surgeon, operating on all ages of injured patients. He continues to run a thriving practice.
He has recently contracted his debut novel, The Cuts that Cure, to White Bird Publishing in Austin Texas. It's due for release in early 2021. He has begun work on his second novel.
Arthur currently lives in New Orleans, with his wife Amy and their dogs. Keep up with him on his website and Twitter.
My Thoughts & Takeaways
Alex Brantley is a surgeon who hates his job. One thing after another – divorce, student loan debt, depression – Brantley needs a new start. He leaves for a new life and job as a teacher in a small Texas town.
But, you know what they say – the grass isn't always greener or perhaps the problems follow you or both? It's nothing like what he expected. His debt still exists, he's not quite welcomed into the small town fold, but when a local teen winds up dead, Brantley is an obvious suspect.
I'm a big fan of dark stories – if it makes me uncomfortable, I'm somehow comfortable? Herbert does just that. With a gripping storyline, developed characters, and great storytelling, I'd recommend The Cuts That Cure to anyone who loves a good dark psychological thriller.