Title
Six of Crows
Author
Leigh Bardugo is a #1 New York Times bestselling author of fantasy novels and the creator of the Grishaverse (coming soon to Netflix) which spans the Shadow and Bone Trilogy, the Six of Crows Duology, The Language of Thorns, and King of Scars— with more to come. Her short stories can be found in multiple anthologies, including the Best American Science Fiction & Fantasy. Her other works include Wonder Woman: Warbringer and Ninth House (Goodreads Choice Winner for Best Fantasy 2019) which is being developed for television by Amazon Studios. Leigh was born in Jerusalem, grew up in Southern California, and graduated from Yale University. These days she lives and writes in Los Angeles. For information on new releases and appearances, sign up for her newsletter.
She would be delighted if you followed her on Twitter, elated if you visited her at LeighBardugo.com, and fairly giddy if you liked her selfies on Instagram.
Book Details
Publication Date: September 29, 2015
Publisher: Henry Holt & Company
ISBN: 9781627792127
Book Description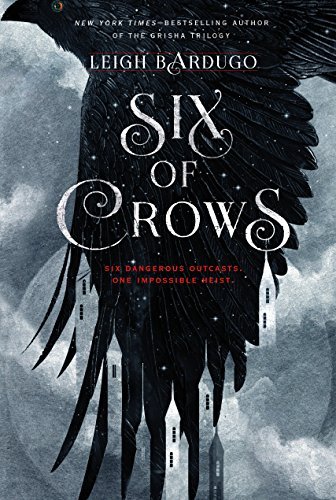 Ketterdam: a bustling hub of international trade where anything can be had for the right price—and no one knows that better than criminal prodigy Kaz Brekker. Kaz is offered a chance at a deadly heist that could make him rich beyond his wildest dreams. But he can't pull it off alone. . . .
A convict with a thirst for revenge

A sharpshooter who can't walk away from a wager

A runaway with a privileged past

A spy known as the Wraith

A Heartrender using her magic to survive the slums

A thief with a gift for unlikely escapes
Kaz's crew is the only thing that might stand between the world and destruction—if they don't kill each other first.
My Thoughts & Takeaways
I've owned this book for years – probably near when it came out. For whatever reason, it never got read despite being right up my alley. Well, I finally got around to reading it and I'm bummed it took me so long!
This is my first book by Bardugo and thus my first book in the Grishaverse. So, I'm really excited to read Crooked Kingdom and the Bone and Shadow trilogy in time for the Netflix series coming.
Judging a book by it's looks definitely comes out in favor of the book in this case. The cover is stunning and the black pages are to die for.
If this book is any indication of how well Bardugo develops characters and builds worlds then I'm very excited because both were astounding.
It took me about 75-100 pages to move from slightly confused to fully invested. There's quite a bit of name-dropping (and fantasy names at that) and world-building elements at the beginning and I was struggling a bit.
It's YA so there are, of course, romantic interests but they aren't the focal point. And, despite me wanting them to not be the focal point, I still fell in love with the little love interests.
Definitely recommend for book lovers that enjoy YA, fantasy, and just well-written stories.