I received a copy of Space Taxis in exchange for my honest review. All opinions are, of course, my own.
I'd like to thank Rachel's Random Resources for including me on this tour.
Title
Space Taxis
Book Details
Genre: Science Fiction
Publication Date: November 6, 2020
Length: 342 pages
Publisher: Burton Mayers Books
ISBN: 9781916212688
Book Description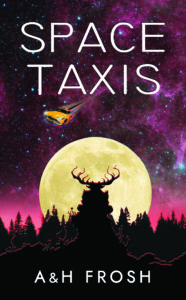 "A perfect blend of science fiction and alternate history"

He's abducted by aliens to the planet Vost.

He's saving up for his fare home.

But he's got the small matter of a planetary apocalypse to deal with first…

In 1977 a New York Cab driver Mike Redolfo is abducted by aliens after being mistaken for a renegade scientist. Meanwhile, back in 1944 a mysterious man and his Jewish fiancée are fleeing across Nazi-occupied Europe.

Redolfo tries to keep a low profile on his new world whilst earning his fare home, but unwittingly gets involved with a shady gang of alien criminals, inadvertently bringing the planet to the brink of catastrophe.

As the link between the timelines becomes clear, Redolfo must discover secrets from the past that may hold the key to saving the planet.

If you like The Hitchhiker's Guide to the Galaxy, Kurt Vonnegut's Slaughterhouse 5, and Frank Herbert's Dune, you'll love this gripping and entertaining sci-fi mystery thriller.
Author
Adam wasted much of his youth watching Star Trek on the TV and films like Planet of the Apes and Alien on the big screen. He redeemed himself by becoming a surgeon but has since graduated from writing articles for science journals into writing his own Sci-Fi and Alternate History stories. As a writer, he is dedicated to giving his readers a great story laced with strong, fun, and scary characters. Descended from Jewish refugees who escaped from the pogroms, he is haunted by the stories of the Holocaust but inspired by heroes who put themselves at risk to save others. Adam likes to hear from his readers. You can find him at http://adamfroshauthor.com
Connect with Adam on AdamFroshAuthor.com, Twitter, and Facebook.
Harriet will never be able to let go of Greek gods. No, not the sculpted Adonis-like figures on the beach, but the ancient ones. Loving all things mythological, her writing incorporates myths and legends from around the world. Her other fascination is with the criminal mind, and you can expect to see a blend of these two interests in her writing.
As a student of English, she spends her day critiquing literature and her evenings creating exciting characters and fun stories.
Harriet is also an artist, and she would like to hear from her readers and those interested in her art. Connect with Harriet at HarrietFrosh.com
My Thoughts & Takeaways
Space Taxis sucked me in with the cover and the title. Not sure if it's cause one of my favorite bands is Moon Taxi, but yes please.
Space Taxis is an alternate history book with a lot of sci-fi, some humorous elements, and a whole lot of history …. kind of. It's a bit of 'throw a dart at it' story-line as far as what all it includes. We got some aliens, we got some Germany era Hitler occupation, we got other planets in space, we got centaurs.
This is a trippy, trippy book that somehow works. The writing is great yet easy to understand (space and things can get a bit confusing).
If you love historical fiction, sci-fi, or even better – both! – this book is for you.