Title
Percy Jackson and the Olympians: The Lightning Thief
Author
Rick Riordan is the #1 New York Times bestselling author of many books, including the Percy Jackson & the Olympians series.
Connect with him on Twitter and via his official blog.
Book Details
Publication Date: June 28, 2005
Publisher: Miramax Books
ISBN: 9780786856299
Famous First Words
"Look, I didn't want to be a half-blood."
Book Description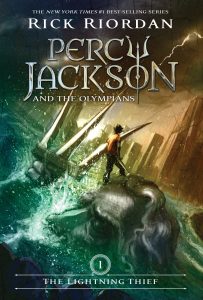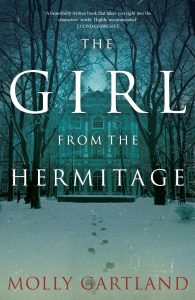 Percy Jackson is about to be kicked out of boarding school… again. And that's the least of his troubles. Lately, mythological monsters and the gods of Mount Olympus seem to be walking straight out of the pages of Percy's Greek mythology textbook and into his life. And worse, he's angered a few of them. Zeus's master lightning bolt has been stolen, and Percy is the prime suspect.
Now Percy and his friends have just ten days to find and return Zeus's stolen property and bring peace to a warring Mount Olympus. But to succeed on his quest, Percy will have to do more than catch the true thief: he must come to terms with the father who abandoned him; solve the riddle of the Oracle, which warns him of betrayal by a friend; and unravel a treachery more powerful than the gods themselves. 
My Thoughts & Takeaways
I'm 34 and just now read Percy Jackson. It never intrigued me before for some reason. So, I find the irony that I got diagnosed with ADHD this year and also finally picked up this book pretty strong. I actually. was seeking out fictional books with ADHD representation and – surprise, surprise – there's hardly any. 
But, I was pleasantly surprised to see that ADHD is not only implied in the PJ series but blatantly talked about and in a positive light. 
It turns out I'm a demi-god. So, that's cool. 
Because that's what Percy Jackson is. He's a child of the gods and has secret powers.
On top of this message, there is a fast-paced fantasy story full of Greek mythology, friendships, family, and a lot of adventure. I'm glad I never saw the movie because I heard it's terrible. I'm also glad I didn't read it until I could actually relate to this teenage boy. I feel like it was meant to be and gave me a bit of "it's okay to be different" after my diagnosis. 
Favorite Quotes
"Deadlines just aren't real to me until I'm staring one in the face."
"Go on with what your heart tells you, or you will lose all."
"The sea does not like to be restrained. "
"What I did next was so impulsive and dangerous I should've been named ADHD poster child of the year."