Title
Clap When You Land
Book Details
Genre: YA Contemporary
Publication Date: May 5, 2020
Length: 432 pages
Publisher: HarperTeen
ISBN: 9780062882769
Goodreads Choice Award Young Adult Fiction (2020), Carnegie Medal Shortlist (2021)
Book Description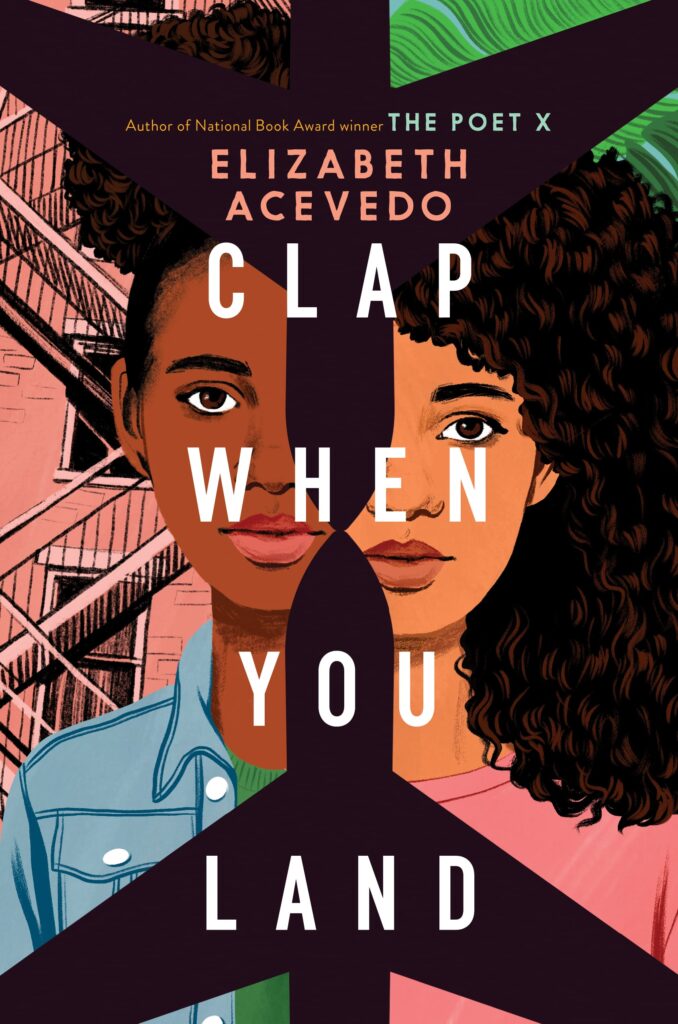 In a novel-in-verse that brims with grief and love, National Book Award-winning and New York Times bestselling author Elizabeth Acevedo writes about the devastation of loss, the difficulty of forgiveness, and the bittersweet bonds that shape our lives.
Camino Rios lives for the summers when her father visits her in the Dominican Republic. But this time, on the day when his plane is supposed to land, Camino arrives at the airport to see crowds of crying people…
In New York City, Yahaira Rios is called to the principal's office, where her mother is waiting to tell her that her father, her hero, has died in a plane crash.
Separated by distance—and Papi's secrets—the two girls are forced to face a new reality in which their father is dead and their lives are forever altered.
And then, when it seems like they've lost everything of their father, they learn of each other.
Author
ELIZABETH ACEVEDO is a New York Times bestselling author of The Poet X, With the Fire on High, and Clap When You Land. Her critically-acclaimed debut novel, The Poet X, won the 2018 National Book Award for Young People's Literature. She is also the recipient of the Printz Award for Excellence in Young Adult Fiction, the CILIP Carnegie Medal, and the Boston Globe-Hornbook Award. Additionally, she was honored with the 2019 Pure Belpré Author Award for celebrating, affirming, and portraying Latinx culture and experience.
Her books include, Beastgirl & Other Origin Myths (YesYes 2016), The Poet X (HarperCollins, 2018), & With The Fire On High (HarperCollins, 2019), and Clap When You Land (HarperCollins, 2020).
She holds a BA in Performing Arts from The George Washington University and an MFA in Creative Writing from the University of Maryland. Acevedo has been a fellow of Cave Canem, Cantomundo, and a participant in the Callaloo Writer's Workshops. She is a National Poetry Slam Champion, and resides in Washington, DC with her love.
You can follow her on her website, Instagram, Twitter, and Goodreads. 
My Thoughts & Takeaways
Clap When You Land is my first Elizabeth Acevedo read and I was not disappointed. I had heard about it but it wasn't until I was perusing Libby looking for audiobooks that were available immediately, that I decided to try it.
I loved the way the audiobook was done with the two narrators reading from the two different viewpoints. And I think the audiobook made the poetic verse that much more powerful.
This realistic fictional story is poignant, powerful, and emotional. It's about two sisters who don't even realize each exist until an unexpected accident shatters their lives.
Acevedo was inspired to write this story after the November 2001 crash of American Airlines Flight 587 that regularly flew from JFK to Santa Domingo, Dominican Republic. It claimed 260 lives, approximately 90% of them being of Dominican or Dominican descent. The Dominican community in NYC was rocked.
One of the more realistic YA books I've read. Acevedo creates real characters, emotions, and connections – that are messy, but almost always beautiful.