I received a copy of Immersed in West Africa: My Solo Journey Across Senegal, Mauritania, The Gambia, Guinea and Guinea Bissau in exchange for my honest review. All opinions are, of course, my own. 
Title
Immersed in West Africa: My Solo Journey Across Senegal, Mauritania, The Gambia, Guinea and Guinea Bissau
Author
Terry Lister is a traveler and writer. Before this, Terry was a partner at the Deloitte accounting firm, a Minister in the Government of Bermuda, and a realtor.
But most of all he wanted to be a traveler. He retired at 60 and has been a solo traveler for the past five years. He goes on the road for eight weeks then home for eight and then back again.
Upon retirement, he had been to 44 countries but in the last five years, he has been to 46 more.
His first book, Immersed in West Africa, tells the tale of eight adventure-filled weeks in five West African countries. 
When he is not always traveling, he is relaxing and enjoying a good book – usually something that is historical and even better biographical. 
Terry looks to find those things that tourists either don't do or don't know about.
Publication Date
May 14, 2017
Why I Picked It Up
I was contacted by the author and requested to read and review. However, as a lover of travel (see my main blog – Wild Hearted) and not reading much about West Africa in general, I was immediately interested.
Famous First Words
"With 15 million people, Senegal is on the rise. There is a flavour about it that fills not only your nose but your very soul. Be open to it."
Book Description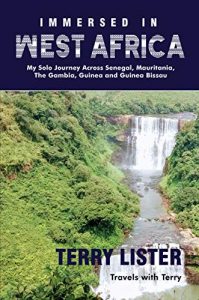 Immersed in West Africa is NOT one of those cookie-cutter guide books. This is the powerful on-the-ground diary of one man's solo journey through West Africa. For roughly 60 days, Terry Lister traveled across Senegal, Mauritania, the Gambia, Guinea and Guinea Bissau. What he experienced touched both his spirit and his soul. The ups and downs of travel, the people, the transport, the weather, the food, the haggling…he welcomed it all.
From harrowing experiences with border police to day-long travel on crowded mini-buses, Lister's accounts of daily life shed light on the real side of Africa, and are sure to both entertain and educate you.
Travel is the best educator and Lister shows us that while Africa is still the brunt of many jokes and misconceptions, it is more than worth the visit. If you are someone who's been a bit afraid to travel into Africa beyond the big tours, this book will inspire you to step out with courage and faith. While your experience will be your own, it is one guaranteed to inspire and motivate you to be the best version of yourself.
My Thoughts & Takeaways
This was a quick and easy read and a great glimpse of West Africa. As a traveler, I was definitely intrigued. 
Lister is very straight forward and informal in the book and it reads more like a blog post. I would have loved to have more description in the stories. 
As someone already interested in the region, I still was fascinated, but for those that are not interested or have never heard of these countries, I would want them to be drawn in as well. 
I love Lister's intrepid spirit, his disagreement with using animals or people as photo props or feeding wildlife, and overall love of travel and culture. 
He is honest about his experiences, gives brief facts and history about each place, provides beautiful photos (although bigger would be better) and showcases his off the beaten path spirit. 
Favorite Quotes
It is almost impossible to visit some other place and return without having learned something. When we do not travel we remain set in our ways believing that the way we do it is the only way to do it.
some wise advice given to me many years ago by a wise experienced traveller – my dad: "Always travel early as you never know what you might run into!"
Drake and Hawkins were among my heroes. Imagine my absolute shock about ten years later when I learned that these two heroes of mine were also slavers! My history classes had not taught me that!
The goal is that you will decide to visit these countries and be prepared to feel the real Africa, not dressed up for tourists, no pretty face, but the real lives of the average person being lived in front of you.