I received a copy of Medicine and Miracles in the High Desert in exchange for my honest review.
All opinions are, of course, my own. I'd like to thank Nicole Pyles and Women on Writing for allowing me to participate in this tour.
Title
Medicine and Miracles in the High Desert
Author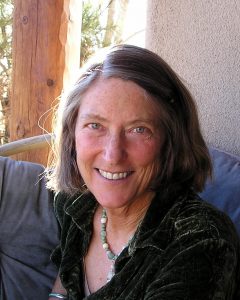 Erica Elliott is a medical doctor with a busy private practice in Santa Fe, New Mexico. A true adventurer, she has lived and worked around the world. She served as a teacher for Indigenous children on the Navajo Reservation in Arizona and in the mountains of Ecuador.
In 1976, she was the first American woman to climb Aconcagua, the highest mountain in the western hemisphere. She taught rock climbing and mountaineering for Outward Bound and, after her first year of medical school, she led an all-women's expedition to the top of Denali in Alaska.
In 1993, Erica helped found The Commons, a cohousing community in Santa Fe where she raised her son and continues to live. She gave a TEDx talk about living in cohousing. Referred to affectionately as "the Health Detective," she treats mysterious and difficult-to-diagnose illnesses at her clinic within The Commons. Erica is a frequent radio guest and has given workshops at various venues, including Esalen and Omega Institute.
Connect with her on her blog, author website, professional website, Facebook, or Twitter.
Publication Date
November 5, 2019
Famous First Words
"It was early summer – monsoon season – when I began my first job as a medical doctor, fresh out of training in family practice."
Book Description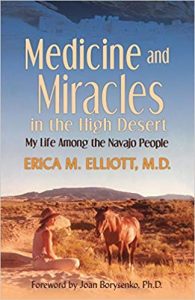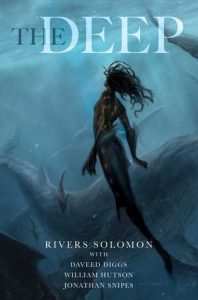 This is the true story of a young white woman, Erica Elliott, who comes to the Navajo Reservation in 1971 as a newly minted schoolteacher, knowing nothing about her students or their culture. After several blunders and misunderstandings, and beset by loneliness and despair, Erica makes a determined effort to overcome the barriers of language and culture. From the moment she begins learning the Navajo language, the people open their hearts and homes to her, inviting her into a world that will profoundly impact the rest of her life.
Erica falls in love with her Navajo students—along with their enchanting land, healing ceremonies, and rich traditions. She witnesses many miracles during this time, and experiences her own miracle when the elders pray for her healing. She survives fearsome encounters with a mountain lion and a shapeshifting "skin walker." She learns how to herd and butcher sheep, make fry bread, weave traditional rugs, and more.

Erica returns years later to serve the Navajo people as a medical doctor in an under-funded and under-staffed clinic, where she treats myriad ailments, delivers countless babies, and performs emergency procedures. When a medicine man offers to thank her with a ceremony, more miracles unfold.

My Thoughts & Takeaways
I'm always skeptical with books (or anything) like this – where it's telling a story about something BIPOC related but from a white person's perspective. But, the description of the book was enough for me to give it a chance. And, I'm pleased to say I was wrong in my skepticism – for this book, at least. Still plenty of white people telling stories they shouldn't be and taking up space.
With that little note out of the way, this story, true I might add, is amazing. Dr. Elliot reminds me of me, full of adventure, dreams, and a strong, deep desire to explore the world and other cultures. The difference is she was doing this way before the internet, cell phones, or any kind of guidance – a true intrepid explorer. 
This particular book isn't a complete autobiographical account. It centers mainly on her time amongst the Navajo people (Elliot mentions in her introduction that she used the term Navajo because that's what was used during her time with them; however, it is considered more accurate and respectful to now use the term Diné when referring to "The People") right out of college when she taught there for two years fully immersing herself in their culture even learning the Navajo language – an extremely difficult language to learn. Sandwiched on both sides of that story is her return to the Navajo people as a medical doctor in an under-funded and staffed clinic where from the very first day she is tested on her [literally brand new] medical skills. 
This is nothing against the author and or the Navajo people, but as an ethical vegan, the only parts that made me uncomfortable and that I want like-minded individuals to know about is the talk of butchering sheep. 
Quotes Worth Mentioning
"…the U.S. government permits Native Americans to use peyote, provided it is used in a spiritual context and not for recreation."
"The number of rapes, murders, and unexplained disappearances of Native women across the country is alarmingly high."