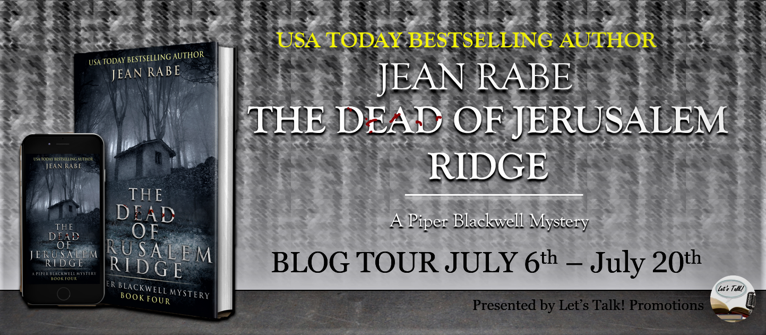 I received a copy of The Dead of Jerusalem Ridge in exchange for my honest review. All opinions are, of course, my own. I'd like to thank Let's Talk Promotions for allowing me to participate in this tour. 
Title
The Dead of Jerusalem Ridge (Piper Blackwell #4)
Author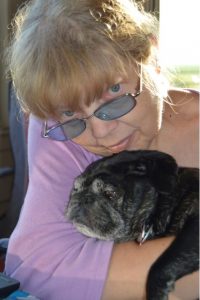 Jean Rabe's home is filled with dogs and books. Lots of dogs and books. She wears worn-out sandals to work every day. She's a mystery writer living in a tiny Midwestern town that has a gas station, a Dollar General, and a marvelous pizza place with exceedingly slow service. She is always working on a new project or three. She has forty-some books published in the fantasy, science fiction, urban fantasy, and mystery genres. But she's concentrating on mysteries now. In her spare time, she dabbles in roleplaying games and board games. And at every opportunity, she tosses tennis balls to her cadre of dogs.
You can follow her online on her website, Twitter, GoodReads, and her newsletter.
Publication Date
July 15, 2020
Book Description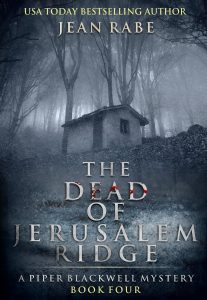 Sheriff Piper Blackwell's three-day vacation with old Army buddies ends in tragedy. At the same time, a vile hate crime along a county road enrages her department. Their forces divided, Piper and her deputies must solve both cases before tensions boil and threaten the rural fabric of Spencer County, Indiana. Only eight months on the job, the young sheriff must weave together clues to uncover both a killer and a secret that could scar her soul.
"Piper Blackwell is a smart and capable small-town sheriff, a thoroughly modern woman who leads a colorful cast of characters in this entertaining read. Well-crafted and suspenseful, THE DEAD OF JERUSALEM RIDGE adroitly threads the needle between Cozy, Procedural, and Action-Thriller. Jean Rabe's fans, both old and new, won't want to miss this one." – Baron R. Birtcher, multi-award winner, and LA Times Bestselling author
Excerpt
6 p.m. Saturday
The cabin had belonged to Spaceman's grandfather, who'd had surgery to put rods in his back and didn't consider himself limber enough to come out here anymore. The old man recently turned over the deed for it, plus the ninety-nine thickly wooded acres it sat on in Ohio County, Kentucky, to Spaceman—Piper's Army friend Tom Carpenter.
Three vehicles were parked about fifty feet away behind a line of hickory trees, two small SUVs that the seven other paintballers had crammed themselves and their gear into, and Piper's tiny red SmartFortwo that had barely made it through the ruts and over the rises, and which she figured had suffered some undercarriage damage doing so. She hoped it would make it back out to the county road when it was time to go home Monday night.
The cabin was large, with three bedrooms, an eat-in kitchen, a living room, and a study. More than a hundred years old, it desperately needed furniture, indoor plumbing, and some maintenance, which Spaceman said he intended to get to after the first of the year. That would coincide with him waltzing away from the Army and into a desk job at Carpenter's Pre-Owned Autos and Trucks in nearby Hartford. His grandfather was giving him the car dealership too. Spaceman said he'd put a down payment on a little two-story house in neighboring Horse Branch, but if he got this cabin fixed up the way he wanted, he might live here instead.
Half of the roof over the porch was intact, and Piper sat underneath a good spot on a rickety bench next to Hemi. She watched the storm continue to muddy the landscape. The air smelled good and sweet, not a trace of civilization sullying it. No wi-fi out here, no cell reception, no way to check in and make sure things were running smoothly. But with her chief deputy having nearly as many years in the sheriff's department as she'd been alive, she didn't worry. And her detective was an experienced veteran from the Chicago Police Department; neither of them needed her help. Spencer County was in excellent hands.
"You're going to be hurtin' come tomorrow, Christmas," Hemi said, giving her a once-over. "Not wearing a vest."
"Spaceman didn't tell me I needed a vest. Just told me I needed to buy a paint gun."
Piper was already aching from the impact of the paintballs, suspecting she had a trio of bruises purpling her back, and a smaller one to match on her leg. She was barefoot and dressed in lounge pants and an Aerosmith t-shirt, having changed after washing off in the rain.
"Yeah, that's bad on us. We should have told you to buy a vest." Hemi shook his head. "And knee pads, too."
"I'll manage," Piper returned. "Doesn't hurt as much as real bullets."
My Thoughts & Takeaway
The Dead of Jerusalem Ridge is the fourth book in the Piper Blackwell series. Piper is 23 years old but already has a lot on her plate. After becoming sheriff of a small town, it doesn't take long for things to heat up and by not long – I mean like an hour.
Rabe's writing is fantastic and while I'm not an expert on these things, you can tell that she has done the necessary research into law enforcement, crime scenes, forensics, and all that comes with that world. It's a big pet peeve of mine when authors write about things without doing a lot of research into that they're talking about. Not the case here. 
Jean has been writing a long time across several different genres but has she mostly focuses on mysteries now, I'm sure there are many more great stories to come with Piper Blackwell. For now, start with these four!