I received a copy of this book in exchange for my honest review.
All opinions are, of course, my own.
Title
The Last House on Needless Street
Book Details
Genre: Horror
Publication Date: September 28, 2021
Length: 335 pages
Publisher: Tor Nightfirre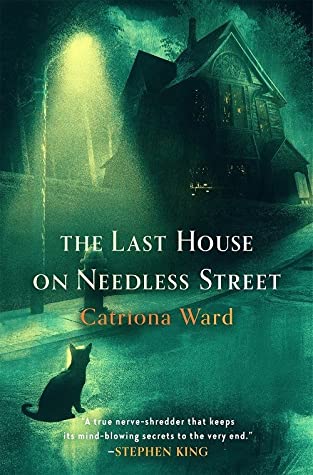 Book Description
Catriona Ward's The Last House on Needless Street is a shocking and immersive read perfect for fans of Gone Girl and The Haunting of Hill House.

In a boarded-up house on a dead-end street at the edge of the wild Washington woods lives a family of three.

A teenage girl who isn't allowed outside, not after last time.

A man who drinks alone in front of his TV, trying to ignore the gaps in his memory.

And a house cat who loves napping and reading the Bible.

An unspeakable secret binds them together, but when a new neighbor moves in next door, what is buried out among the birch trees may come back to haunt them all. 
Author
Catriona Ward was born in Washington, DC and grew up in the United States, Kenya, Madagascar, Yemen, and Morocco. She read English at St Edmund Hall, Oxford, and is a graduate of the Creative Writing MA at the University of East Anglia.
My Thoughts & Takeaways
Wow. I was hearing a lot about this book. At first, I really wanted to read it, but then as I do with things that get a lot of hype, I subconsciously tabled it because I worry I won't enjoy something as much as I expect to.
Eventually I got around to starting it and, at first, I was not connecting with it. But it takes me a bit to get into any book so that's not really new.
Thankfully I stuck through it and I am so glad I did.
The Last House on Needless Street is a dark and disturbing story about a reclusive man Ted, his teenage daughter Lauren, and his bible-reading cat Olivia. Yes, seriously.
There are many layers to both the story and the characters. Due to the structure and the multiple points of view (even the cat's!), it can be a bit confusing and disorienting. Trust me, it'll pay off.
There's not just a twist at the end; it's a winding, curvy road. So, buckle up, friends cause even when you think you have it figured out, you probably don't.
And definitely read the author's note at the end. Ward explains really well how this story evolved and the important messaging throughout.
Favorite Quotes
"The young feel pain intensely, I think, because they don't know yet how deep it can go."
"I like this kind of place, where you're in between one thing and another. Hallways, waiting rooms, lobbies and so on; rooms where nothing is actually supposed to happen. It relieves a lot of pressure and lets me think."
"How many times can someone bend before they break forever? You have to take care, dealing with broken things; sometimes they give way, and break others in their turn."