Title
The Nickel Boys
Book Details
Genre: Historical fiction
Publication Date: July 16, 2019
Length: 213 pages
Publisher: Doubleday Books
ISBN: 9780385537070
Pulitzer Prize Fiction (2020), National Book Award Fiction (2019), Orwell Prize Political Fiction (2020), Audie Award Best Male Narrator (2020), Los Angeles Times Book Prize Fiction (2019), ALA Alex Award (2020), Dayton Literary Peace Prize Fiction (2020), National Book Critics Circle Award Fiction (2019), Lincoln Award (2021), Kirkus Prize Fiction (2019), Goodreads Choice Award Historical Fiction (2019), International Dublin Literary Award (2021)
Book Description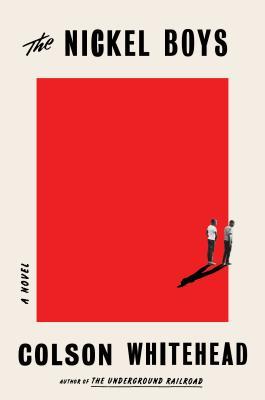 Colson Whitehead dramatizes another strand of American history through the story of two boys sentenced to a hellish reform school in Jim Crow-era Florida.
When Elwood Curtis, a black boy growing up in 1960s Tallahassee, is unfairly sentenced to a juvenile reformatory called the Nickel Academy, he finds himself trapped in a grotesque chamber of horrors. Elwood's only salvation is his friendship with fellow "delinquent" Turner, which deepens despite Turner's conviction that Elwood is hopelessly naive, that the world is crooked, and that the only way to survive is to scheme and avoid trouble. As life at the Academy becomes ever more perilous, the tension between Elwood's ideals and Turner's skepticism leads to a decision whose repercussions will echo down the decades.
Based on the real story of a reform school that operated for 111 years and warped the lives of thousands of children.
Author
Colson Whitehead is the author of the novels Zone One; Sag Harbor; The Intuitionist, a finalist for the PEN/Hemingway award; John Henry Days, which won the Young Lions Fiction Award, the Anisfield-Wolf Book Award, and was a finalist for the Pulitzer Prize; and Apex Hides the Hurt, winner of the PEN Oakland Award. I've also written a book of essays about my home town, The Colossus of New York, and a non-fiction account of the 2011 World Series of Poker called The Noble Hustle. A recipient of a Whiting Writers' Award, a Guggenheim Fellowship, and a MacArthur Fellowship, he lives in New York City. His latest book, The Underground Railroad, is an Oprah's Book Club pick.
You can follow Whitehead on his website, Twitter, and Goodreads.
My Thoughts & Takeaways
The Nickel Boys by Colson Whitehead is a historical fiction novel based on some very horrifying truths. The Dozier School for Boys in Florida is the inspiration for this story – and that's not something to be proud of because it is absolutely disturbing. This is my first Whitehead novel and I look forward to reading many more in the future.
The main character, Elwood, follows all the rules, respects authority, and admires none other than Dr. Martin Luther King, Jr. Unfortunately, he finds himself in the wrong place at the wrong time and ends up being sent to Nickel Academy, a reform school for young men.
Elwood and his new friend, Turner, try to get through their time at the school without problems. But, as you can probably deduce, that's just not how things go.
This is a very difficult read. Due to the subject matter and not so much the writing. These things are hard to process and yet we must because the world may look and seem different, but the ways in which Black people are treated is much the same only through different avenues and methods.
This is the kind of book that should be required reading in schools.