I'd like to thank the publisher and Netgalley for so generously providing me a digital copy of The Other Family.
All opinions are, of course, my own.
Title
The Other Family
Book Details
Genre: Domestic Thriller
Publication Date: January 18, 2022
Length: 384 pages
Publisher: William Morrow & Company
ISBN: 9780063084605
Book Description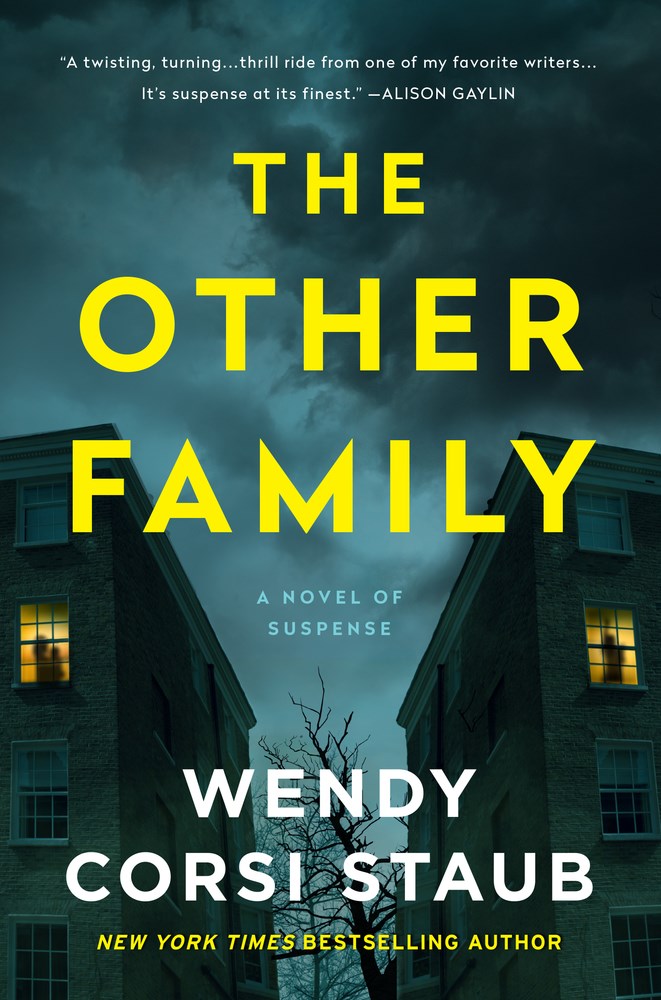 New York Times bestselling author Wendy Corsi Staub makes her trade paperback debut with a fast-paced thriller in the vein of Lisa Jewell's The Family Upstairs and Megan Collins' The Winter Sister. Here, a family making a fresh start moves into a house that was the site of an unsolved triple homicide–and are watched by an unknown person…
The watcher sees who you are…and knows what you did.
It's the perfect home for the perfect family: pretty Nora Howell, her handsome husband, their two teenage daughters, and lovable dog. As California transplants making a fresh start in Brooklyn, they expected to live in a shoebox, but the brownstone has a huge kitchen, lots of light, and a backyard. The catch: its previous residents were victims of a grisly triple homicide that remains unsolved.
Soon, peculiar things begin happening. The pug is nosing around like a bloodhound. Nora unearths a long-hidden rusty box in the flowerbed. Oldest daughter Stacey, obsessed with the family murdered in their house, pokes into the bloody past and becomes convinced that a stranger is watching the house. Watching them.
She's right. But one of the Howells will recognize his face. Because one of them has a secret that will blindside the others with a truth that lies shockingly close to home–and to this one's terrifying history.
Author
New York Times bestseller Wendy Corsi Staub is the award-winning author of more than ninety novels, best known for the single title psychological suspense novels she writes under her own name. Those books and the women's fiction written under the pseudonym Wendy Markham have also appeared on the USA Today, Amazon, Barnes and Noble, and Bookscan bestseller lists.
Her current standalone suspense novel, THE OTHER FAMILY, is about a picture-perfect family that moves into a picture-perfect house. But not everything is as it seems, and the page-turner concludes "with a wallop of a twist," according to #1 New York Times bestselling author Harlan Coben.
Her critically acclaimed Lily Dale traditional mystery series centers around a widowed single mom—and skeptic—who moves to a town populated by spiritualists who talk to the dead. Titles include NINE LIVES; SOMETHING BURIED, SOMETHING BLUE; DEAD OF WINTER; and PROSE AND CONS, with the fifth book under contract.
Wendy has written five suspense trilogies for HarperCollins/William Morrow. The most recent, The Foundlings (LITTLE GIRL LOST, DEAD SILENCE, and THE BUTCHER'S DAUGHTER), spans fifty years in the life of a woman left as a newborn in a Harlem church, now an investigative genealogist helping others uncover their biological roots while still searching for her own.
Written as Wendy Markham, Wendy's novel HELLO, IT'S ME was a recent Hallmark television movie starring Kellie Martin. Her short story "Cat Got Your Tongue" appeared in R.L. Stine's MWA middle-grade anthology SCREAM AND SCREAM AGAIN and her short story "The Elephant in the Room" is included in the Anthony Award-nominated inaugural anthology SHATTERING GLASS.
A three-time finalist for the Simon and Schuster Mary Higgins Clark Award, she's won an RWA Rita Award, an RT Award for Career Achievement in Suspense, the 2007 RWA-NYC Golden Apple Award for Lifetime Achievement, and five WLA Washington Irving Prizes for Fiction.
She previously published a dozen adult suspense novels with Kensington Books and the critically-acclaimed young adult paranormal series "Lily Dale" (Walker/Bloomsbury). Earlier in her career, she published a broad range of genres under her own name and pseudonyms and was a co-author/ghostwriter for several celebrities.
Raised in Dunkirk, NY, Wendy graduated from SUNY Fredonia and launched a publishing career in New York City. She was Associate Editor at Silhouette Books before selling her first novel in 1992. Married with two sons, she lives in the NYC suburbs. An active supporter of the American Cancer Society, she was a featured speaker at Northern Westchester's 2015 Relay for Life and 2012 National Spokesperson for the Sandy Rollman Ovarian Cancer Foundation. She has fostered various animal rescue organizations.
Connect with Wendy on her website, Twitter, Facebook, Instagram, and GoodReads.
My Thoughts & Takeaways
This was my first novel by this author but I'll definitely be checking out her others after reading The Other Family. Told from multiple POVs, this thriller is set in Brooklyn, New York.
Nora and her family – husband Keith and daughters Stacey and Piper – have just relocated from Los Angeles to NYC for a year for her husband's job. Once moving in and meeting some of their neighbors, they learn their home is the location of a triple murder in which the killer was never identified.
The story kept my attention and it's definitely fast-paced and I loved the twists. My main complaint was the ending. There were some loose ends I would have liked to get tied up like:
**********************************SPOILERS**********************************
What happened with Lennon? Was he just toxic and codependent?
Did Jacob die? Was Jacob even bad?
Nora's friend Ellie accidentally ODed?
How does her family react to her when she tells them the truth?
Is Jacob Stacey's father?