I'd like to thank Ace Books (Berkley) and Netgalley for so generously providing me an ARC of The Witch's Heart. All opinions are, of course, my own.

Title
The Witch's Heart
Book Details
Genre: Fantasy
Publication Date: February 9, 2021
Length: 368 pages
Publisher: Ace Books
ISBN: 9780593099940
Book Description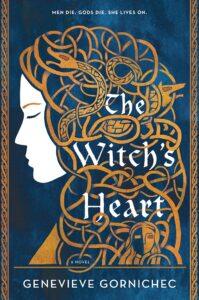 When a banished witch falls in love with the legendary trickster Loki, she risks the wrath of the gods in this moving, subversive debut novel that reimagines Norse mythology.
Angrboda's story begins where most witches' tales end: with a burning. A punishment from Odin for refusing to provide him with knowledge of the future, the fire leaves Angrboda injured and powerless, and she flees into the farthest reaches of a remote forest. There she is found by a man who reveals himself to be Loki, and her initial distrust of him transforms into a deep and abiding love.
Their union produces three unusual children, each with a secret destiny, who Angrboda is keen to raise at the edge of the world, safely hidden from Odin's all-seeing eye. But as Angrboda slowly recovers her prophetic powers, she learns that her blissful life—and possibly all of existence—is in danger.
With help from the fierce huntress Skadi, with whom she shares a growing bond, Angrboda must choose whether she'll accept the fate that she's foreseen for her beloved family…or rise to remake their future. From the most ancient of tales, this novel forges a story of love, loss, and hope for the modern age.
Author
Genevieve Gornichec is a writer from Northeast Ohio. She earned her degree in history, but she got as close to majoring in Vikings as she possibly could. Her writing is inspired by Norse myths and Icelandic sagas.
You can follow her on her website, Instagram, Twitter, Goodreads, and Facebook.
My Thoughts & Takeaways
The Witch's Heart by Genevieve Gornichec was so incredibly good. I wouldn't call it a retelling of Norse Mythology but rather a reimagining but in a more approachable, modern way.
Angrboda is a witch that has survived a burning by the Norse gods and has escaped to a remote forest. She's successfully minding her own business until Loki finds her to return her heart to her. Her and Loki soon fall in love and start a family.
I thoroughly enjoyed this portrayal of the Norse gods. Traditionally, Angrboda is known only as the mate of Loki and the mother of his three children. But, Gornichec gives her a voice following her on an epic and emotional journey from the start of her love affair all the way to Ragnarok.
I love how it combines all the amazing details we Norse mythology geeks know and new details.