Title
They Both Die at the End
Book Details
Genre: Young adult contemporary
Publication Date: September 5, 2017
Length: 389 pages
Publisher: Quill Tree Books
ISBN: 9780062457790
Book Description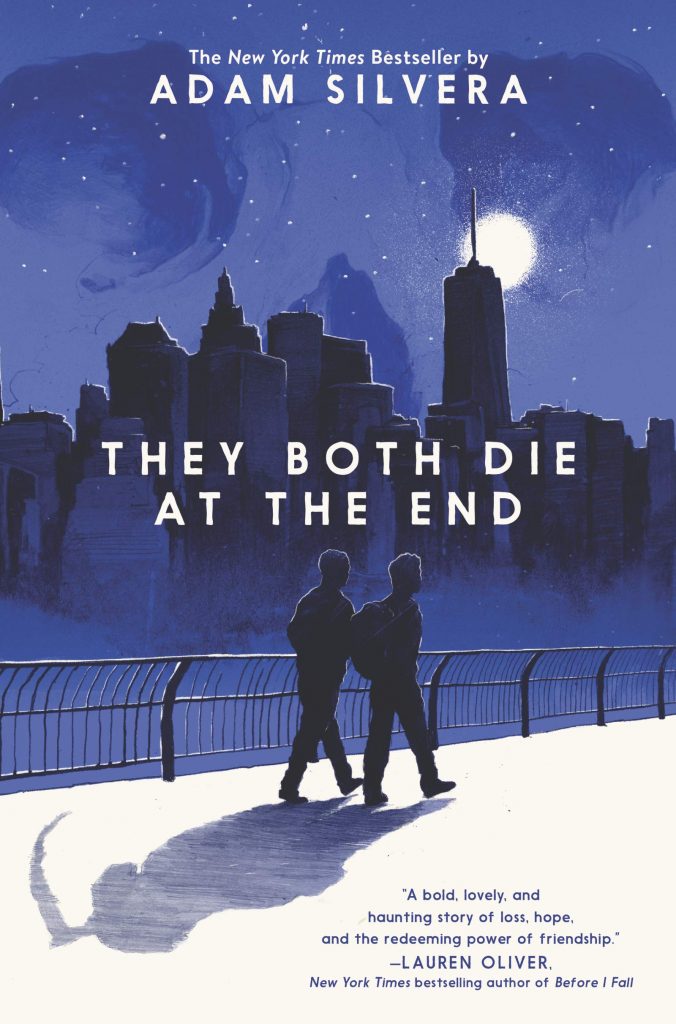 Adam Silvera reminds us that there's no life without death and no love without loss in this devastating yet uplifting story about two people whose lives change over the course of one unforgettable day.
On September 5, a little after midnight, Death-Cast calls Mateo Torrez and Rufus Emeterio to give them some bad news: They're going to die today.
Mateo and Rufus are total strangers, but, for different reasons, they're both looking to make a new friend on their End Day. The good news: There's an app for that. It's called the Last Friend, and through it, Rufus and Mateo are about to meet up for one last great adventure—to live a lifetime in a single day.
Author
Adam Silvera is the New York Times bestselling author of Infinity Son, They Both Die at the End, More Happy Than Not, History Is All You Left Me, and What If It's Us with Becky Albertalli. All his novels have received multiple starred reviews. He worked in the publishing industry as a children's bookseller, community manager at a content development company, and book reviewer of children's and young adult novels. He was born and raised in New York. He lives in Los Angeles and is tall for no reason.
Connect with Adam on his website, Twitter, Goodreads, or Instagram.
My Thoughts & Takeaways
They Both Die at the End by Adam Silvera predominantly follows Matteo and Rufus. They live in a time when people are alerted the day they are going to die. They don't know what time or how, but they know it will be within the next 24 hours.
Matteo and Rufus, both young men, get their notification. Through an app called Last Friend, the two meet up and spend their last day together, encouraging and supporting each other along the way.
The two had different struggles, different fears, and different positive attributes, but they complemented one another nicely.
I loved the diversity – a gay Puerto Rican main character and a bisexual Cuban main character.
Favorite Quotes
"I wasted all those yesterdays and am completely out of tomorrows."
"I was raised to be honest, but the truth can be complicated. It doesn't matter if the truth won't make a mess, sometimes the words don't come out until you're alone. Even that's not guaranteed. Sometimes the truth is a secret you're keeping from yourself because living a lie is easier."
"It's supposed to feel real and the risks should scare you and the goodbyes should suck."
"If you live it right, one day should be good. If we stay longer than that we turn into ghosts who haunt and kill, and no one wants that."
"That love is a superpower we all have, but it's not always a superpower I'd be able to control. Especially as I get older. Sometimes it'll go crazy and I shouldn't be scared if my power hits someone I'm not expecting it to."
"I kiss the guy who brought me to life on the day we're going to die."
"People have their time stamps on how long you should know someone before earning the right to say it, but I wouldn't lie to you no matter how little time we have. People waste time and wait for the right moment and we don't have that luxury. If we had our entire lives ahead of us I bet you'd get tired of me telling you how much I love you because I'm positive that's the path we were heading on. But because we're about to die, I want to say it as many times as I want—I love you, I love you, I love you, I love you."
"My Last Message would be to find your people. And to treat each day like a lifetime."