Title
Thunderhead (Arc of a Scythe #2)
Book Details
Genre: Young Adult Dystopian
Publication Date: January 9, 2018
Length: 504 pages
Publisher: Simon & Schuster Books for Young Readers
ISBN: 9781442472457
Book Description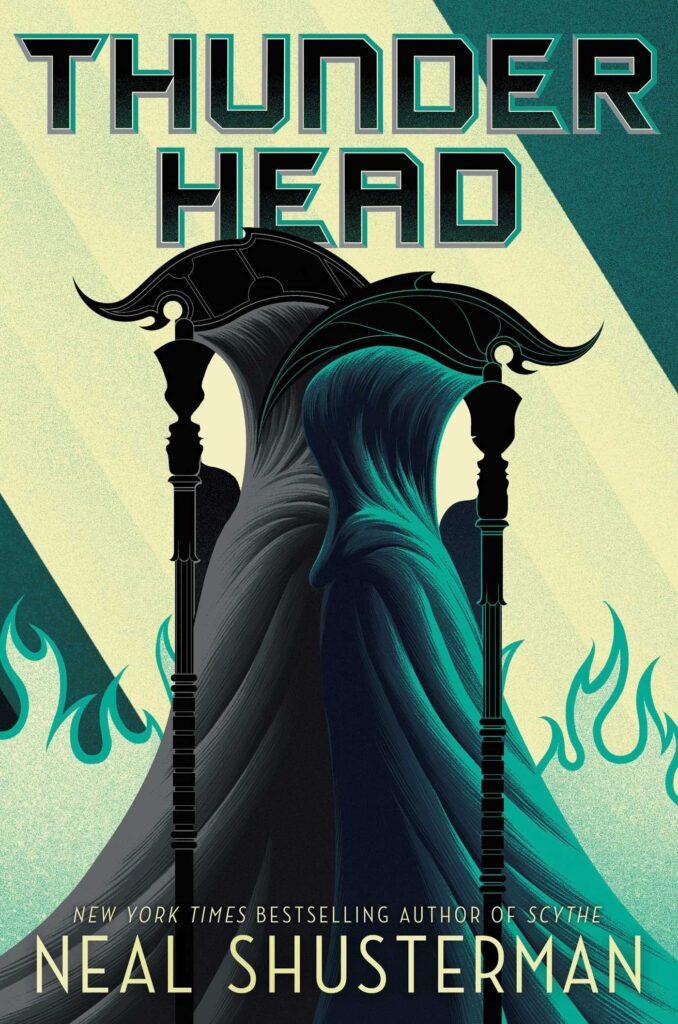 Rowan has gone rogue, and has taken it upon himself to put the Scythedom through a trial by fire. Literally. In the year since Winter Conclave, he has gone off-grid, and has been striking out against corrupt scythes—not only in MidMerica, but across the entire continent. He is a dark folk hero now—"Scythe Lucifer"—a vigilante taking down corrupt scythes in flames.
Citra, now a junior scythe under Scythe Curie, sees the corruption and wants to help change it from the inside out, but is thwarted at every turn, and threatened by the "new order" scythes. Realizing she cannot do this alone—or even with the help of Scythe Curie and Faraday, she does the unthinkable, and risks being "deadish" so she can communicate with the Thunderhead—the only being on earth wise enough to solve the dire problems of a perfect world. But will it help solve those problems, or simply watch as perfection goes into decline?
Author
Award-winning author Neal Shusterman grew up in Brooklyn, New York, where he began writing at an early age. After spending his junior and senior years of high school at the American School of Mexico City, Neal went on to UC Irvine, where he made his mark on the UCI swim team, and wrote a successful humor column. Within a year of graduating, he had his first book deal, and was hired to write a movie script.
In the years since, Neal has made his mark as a successful novelist, screenwriter, and television writer. As a full-time writer, he claims to be his own hardest task-master, always at work creating new stories to tell. His books have received many awards from organizations such as the International Reading Association, and the American Library Association, as well as garnering a myriad of state and local awards across the country. Neal's talents range from film directing (two short films he directed won him the coveted CINE Golden Eagle Awards) to writing music and stage plays – including book and lyrical contributions to "American Twistory," which is currently playing in Boston. He has even tried his hand at creating Games, having developed three successful "How to Host a Mystery" game for teens, as well as seven "How to Host a Murder" games.
As a screen and TV writer, Neal has written for the "Goosebumps" and "Animorphs" TV series, and wrote the Disney Channel Original Movie "Pixel Perfect". Currently Neal is adapting his novel Everlost as a feature film for Universal Studios.
Wherever Neal goes, he quickly earns a reputation as a storyteller and dynamic speaker. Much of his fiction is traceable back to stories he tells to large audiences of children and teenagers — such as his novel The Eyes of Kid Midas. As a speaker, Neal is in constant demand at schools and conferences. Degrees in both psychology and drama give Neal a unique approach to writing. Neal's novels always deal with topics that appeal to adults as well as teens, weaving true-to-life characters into sensitive and riveting issues, and binding it all together with a unique and entertaining sense of humor.
Follow Neal on his website, Facebook, Twitter, Instagram, and Goodreads.
My Thoughts & Takeaways
And, I thought I loved Scythe. Thunderhead is an astounding and fantastic continuation of the Arc of a Scythe series.
The pacing was perfect, I love the characters and their connections, and the plot is intense and exciting. The concept of The Thunderhead was also really interesting and unique.
And, oh my god, that cliffhanger. I can't wait to read the final book in this series and I'm also very sad for it to end.
If we were judged by the things we most regret, no human being would be worthy to sweep the floor.
Look, I love YA books purely for what they are. I love the ones with all the annoying tropes too. But, what I really love is a good YA story that also has some pretty amazing messages and undertones like this series does.
I'm going to need a television series like ASAP –– why hasn't this happened yet?!