Title
Verity
Book Details
Genre: Thriller
Publication Date: December 7, 2018
Length: 324 pages
Publisher: Hoover Ink, Inc.
ISBN: 9781791392796
Book Description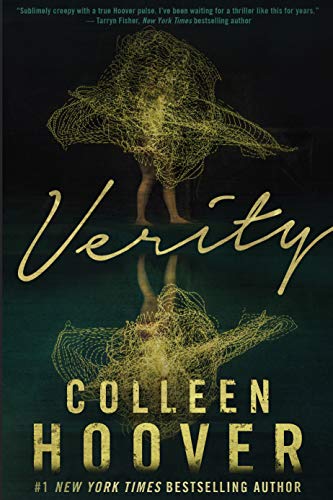 Lowen Ashleigh is a struggling writer on the brink of financial ruin when she accepts the job offer of a lifetime. Jeremy Crawford, husband of bestselling author Verity Crawford, has hired Lowen to complete the remaining books in a successful series his injured wife is unable to finish.
Lowen arrives at the Crawford home, ready to sort through years of Verity's notes and outlines, hoping to find enough material to get her started. What Lowen doesn't expect to uncover in the chaotic office is an unfinished autobiography Verity never intended for anyone to read. Page after page of bone-chilling admissions, including Verity's recollection of what really happened the day her daughter died.
Lowen decides to keep the manuscript hidden from Jeremy, knowing its contents would devastate the already grieving father. But as Lowen's feelings for Jeremy begin to intensify, she recognizes all the ways she could benefit if he were to read his wife's words. After all, no matter how devoted Jeremy is to his injured wife, a truth this horrifying would make it impossible for him to continue to love her.
A standalone romantic thriller from #1 New York Times bestselling author Colleen Hoover.
Author
International and #1 New York Times bestselling author of romance, YA, thriller and Women's Fiction. And maybe a ghost story soon.
I don't like to be confined to one genre. If you put me in a box, I'll claw my way out.
Founder of www.thebookwormbox.com charity and Book Bonanza.
Follow Colleen on her website, Facebook, Twitter, Instagram, and Goodreads.
My Thoughts & Takeaways
"No one is likable from the inside out."
Verity is my first Colleen Hoover read. I understand that it's unlike her normal novels and thus her usual fanbase may have been turned off by Verity. I, however, fell in love.
Thrillers aren't usually my first thing to pick up (although maybe I can't say that much longer as it seems to be more common).
But, I kept hearing amazing things about this book, it was free on Kindle Unlimited, and I was looking for an "easy" read. I didn't know I wouldn't be sleeping until i finished it.
It hooked me from the very beginning and never let go. I never anticipated the ending. There were times I thought I knew were it was going and I would be right for a bit, but then that was ripped out from under me.
This felt very much like a gothic thriller, very Haunting of Hill House vibe.
Still thinking about that ending too.
I will say there are a lot of TW people should be aware of before diving into this one including grief/loss, abortion, child abuse and neglect, murder.
I think it should be said that I like my f**ked up books to be fully f**ked up so keep that in mind when reading my 5-star review.
If you like Verity, I think you'd also like Bloodline.