Title
We Need to Talk About Kevin
Book Details
Genre: Contemporary Fiction
Publication Date: July 3, 2006
Length: 400 pages
Publisher: Harper Perennial
ISBN: 9780061124297
Book Description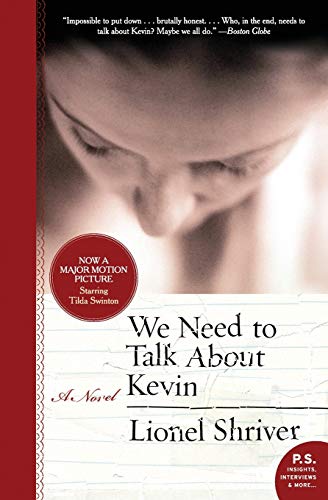 The gripping international bestseller about motherhood gone awry.
Eva never really wanted to be a mother – and certainly not the mother of the unlovable boy who murdered seven of his fellow high school students, a cafeteria worker, and a much-adored teacher who tried to befriend him, all two days before his sixteenth birthday. Now, two years later, it is time for her to come to terms with marriage, career, family, parenthood, and Kevin's horrific rampage in a series of startlingly direct correspondences with her estranged husband, Franklin. Uneasy with the sacrifices and social demotion of motherhood from the start, Eva fears that her alarming dislike for her own son may be responsible for driving him so nihilistically off the rails.
Author
Lionel Shriver's novels include the New York Times bestseller The Post-Birthday World and the international bestseller We Need to Talk About Kevin, which won the 2005 Orange Prize and has now sold over a million copies worldwide. Earlier books include Double Fault, A Perfectly Good Family, and Checker and the Derailleurs. Her novels have been translated into twenty-five languages. Her journalism has appeared in the Guardian, the New York Times, the Wall Street Journal, and many other publications. She lives in London and Brooklyn, New York.
My Thoughts & Takeaways
We Need to Talk About Kevin by Lionel Shriver is a truly incredible work of literature. That being said, it took me about 25% of the book before I had fully decided I didn't hate it.
The story is written fully from the POV of Eva, Kevin's mother. And, being inside Eva's mind for 400 pages is, for lack of better words, a complete and utter mindf**k.
This is not a quick read (even for a fast reader like myself) nor is it an easy read. And, at times, you may feel like it's pretentious, boring, overwritten. And, I get it. These thoughts pretty much made up 100% of my feelings in the first quarter of the book.
The story is told in epistolary form through letters Eva Khatchadourian writes to her husband Franklin Plaskett. Eva is the mother of Kevin, the boy behind the Gladstone High School massacre that left many of his classmates dead.
Time weaves between the present as a shunned mother in her community and the past from Kevin's conception to the tragic incident.
We learn in extreme depths about Eva and Franklin, about their connection, about their childhoods, their careers, their lives.
To Eva, Kevin is evil from birth. To Franklin, he is not and Franklin is completely oblivious to the torture Kevin puts Eva through for his entire life.
At the end (and throughout), you'll find yourself either believing Kevin to be purely evil and Eva as victimized or you'll see Kevin as the victim of an indifferent mother. Or, perhaps it's not that simple at all?
Likely one of the most disturbing books I've ever read but in a completely different way than say another of my most disturbing books, House of Leaves.
I often struggle with how to rate books. I'm fairly lenient. It takes A LOT for me to rate a book less than a three and even though a three still means "I liked it," I still feel guilty. So, in hindsight, I read a lot of 4-5 star books because while books affect me differently and I love them for different reasons, I'm rarely completely disappointed.
That being said, it's easy to rate a book 5 stars when it does what this book did. When it stays with you for a long time (or forever) after you finish it. If it changes your way of thinking or even just your depth of thinking. And even more so, when the book starts out as an almost DNF but redeems itself to the point of practical perfection.
And, rarely will I say this, but the movie adaptation was by far one of the best I've ever seen. Amazing casting and method for a book that takes place inside the mind of one woman.