I'd like to thank the publisher and Netgalley for so generously providing me a digital copy of Autopsy.
All opinions are, of course, my own.
Title
Autopsy: Life In The Trenches With A Forensic Pathologist In Africa
Book Details
Genre: Memoir
Publication Date: August 3, 2020
Length: 224 pages
Publisher: Jonathan Bell Publishers
ISBN: 9781776190188
Book Description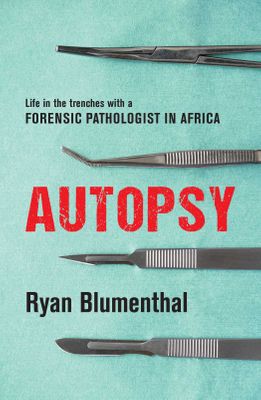 As a medical detective of the modern world, forensic pathologist Ryan Blumenthal's chief goal is to bring perpetrators to justice. He has performed thousands of autopsies, which have helped bring numerous criminals to book. In Autopsy he covers the hard lessons learnt as a rookie pathologist, as well as some of the most unusual cases he's encountered.
During his career, for example, he has dealt with high-profile deaths, mass disasters, death by lightning and people killed by African wildlife. Blumenthal takes the reader behind the scenes at the mortuary, describing a typical autopsy and the instruments of the trade. He also shares a few trade secrets, like how to establish when a suicide is more likely to be a homicide.
Even though they cannot speak, the dead have a lot to say – and Blumenthal is there to listen.
Author
Ryan Blumenthal is a forensic pathologist at one of South Africa's leading universities. He has published widely in the fields of lightning, suicide and other areas involving the pathology of trauma. He has been involved in the publication of numerous articles and textbooks. His chief mission in life is to help advance forensic-pathology services both nationally and internationally. Ryan lives in Pretoria.
My Thoughts & Takeaways
I was so excited to read this book because I love forensic pathology and medical memoir-type books.
But almost immediately I was cringing and often. I found Blumenthal to be lacking compassion and empathy for anyone that wasn't "innocent" enough for him to treat.
According to him, he only got in medicine to help the "innocent." Innocent being defined as someone who does everything right — not a smoker or drinker, someone eats healthy and exercises, and so on.
Yet, the author views himself as a compassionate and caring person. Which is just, honestly, confusing.
In the win column, I did really find the forensic pathology content fascinating but the lack of compassion really ruined it for me. There are plenty of other books on similar topics one could read but as I like to read a diverse range of authors and stories, I was excited to read this one – especially coming from an African perspective.
I think this book could have been handled with a stronger editor (or an editor at all – I'm not sure if there was one). Sometimes, the author rambled too much and sometimes they didn't explain things for the everyday layman.