I'd like to thank Henry Holt & Co and Netgalley for so generously providing me a copy of Firekeeper's Daughter. All opinions are, of course, my own.
Title
Firekeeper's Daughter
Book Details
Genre: YA Thriller
Publication Date: March 16, 2021
Length: 320 pages
Publisher: Henry Holt & Co.
ISBN: 9781250766564
CW/TW: addiction, rape, murder, grief and loss, abduction, racism
Book Description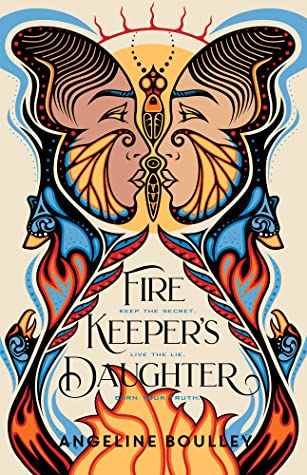 Debut author Angeline Boulley crafts a groundbreaking YA thriller about a Native teen who must root out the corruption in her community, for readers of Angie Thomas and Tommy Orange.
As a biracial, unenrolled tribal member and the product of a scandal, eighteen-year-old Daunis Fontaine has never quite fit in, both in her hometown and on the nearby Ojibwe reservation. Daunis dreams of studying medicine, but when her family is struck by tragedy, she puts her future on hold to care for her fragile mother.
The only bright spot is meeting Jamie, the charming new recruit on her brother Levi's hockey team. Yet even as Daunis falls for Jamie, certain details don't add up and she senses the dashing hockey star is hiding something. Everything comes to light when Daunis witnesses a shocking murder, thrusting her into the heart of a criminal investigation.
Reluctantly, Daunis agrees to go undercover, but secretly pursues her own investigation, tracking down the criminals with her knowledge of chemistry and traditional medicine. But the deceptions—and deaths—keep piling up and soon the threat strikes too close to home.
Now, Daunis must learn what it means to be a strong Anishinaabe kwe (Ojibwe woman) and how far she'll go to protect her community, even if it tears apart the only world she's ever known.
Author
Angeline Boulley, an enrolled member of the Sault Ste. Marie Tribe of Chippewa Indians, is a storyteller who writes about her Ojibwe community in Michigan's Upper Peninsula. She gained attention from the We Need Diverse Books Mentorship Program. Angeline was the former Director of the Office of Indian Education at the U.S. Department of Education. Her agent is Faye Bender at The Book Group. Firekeeper's Daughter has been optioned for a Netflix series by the Obamas' Higher Ground production company.
You can follow her on her website, Instagram, Twitter, and Goodreads.
My Thoughts & Takeaways
Firekeeper's Daughter by Angeline Boulley is a thrilling and stunning debut novel that is part crime fiction and part coming of age.
Daunis Fontaine is 18 years old born to a Native father and a white mother. Daunis balances these two worlds better than I could ever expect to balance anything. She's already seen a lot of heartbreak in her life with the recent passing of her uncle and her grandmother having a stroke, but she's really handling it quite well.
Despite the heartbreak, Daunis has a half-brother (through their father) who she is very close to, her best friend Lily, and her family and friends. Until one day when she's the witness to a murder and through a series of events, becomes a CI (confidential informant) in order to bring justice and safety to her community.
Boulley also grew up with a Native father and a non-Native mother on/near Sugar Island so she's able to paint an authentic picture of not only the location, but Daunis. And, possibly more importantly – the ongoing issues that Native communities face including Indigenous women.
I love how beautiful Boulley's writing was while still bringing very real, very serious issues to the limelight.
I received an eArc of this novel and when I finished the last page, I immediately went and pre-ordered a physical copy. That is how much I loved it.