From Gilmore Girls to You, we love a show that makes pop culture references, especially to books. And the plethora of books shown and referenced in Ted Lasso automatically makes it one of our favorite things about the show.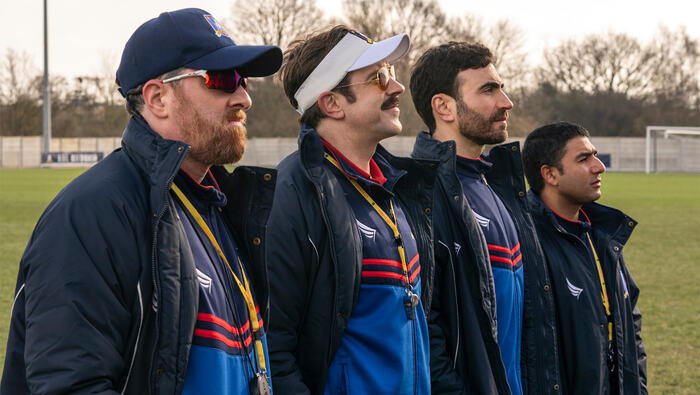 Whether it's Coach Lasso assigning each player a hand-picked book or Coach Beard's seemingly endless appetite for reading, some of the most memorable moments are related to literature.
Books From Ted Lasso, Season 1
Coach Wooden's Pyramid of Success by John Wooden and Jay Carty
Coach Lasso has a poster of the Pyramid of Success on his wall, signed by John Wooden. So we think it's safe to assume it's pretty important to his character.
Additionally, it's pretty important to Jason Sudeikis as well since he taught improv classes using the same book.
A Wrinkle in Time by Madeleine L'Engle
When Coach Lasso gives every team member a book, this is the one he assigns to Roy. It may not be the expected choice, but Ted's not a normal coach, now is he?
Roy: "I mean, what even is A Wrinkle In Time?"
Trent Crimm (The Independent): "It's a lovely novel. It's the story of a young girl's struggle with the burden of leadership as she journeys through space."
Ted: "Yeah. That's it."
Roy: "Am I supposed to be the little girl?"
Ted: "I'd like you to be."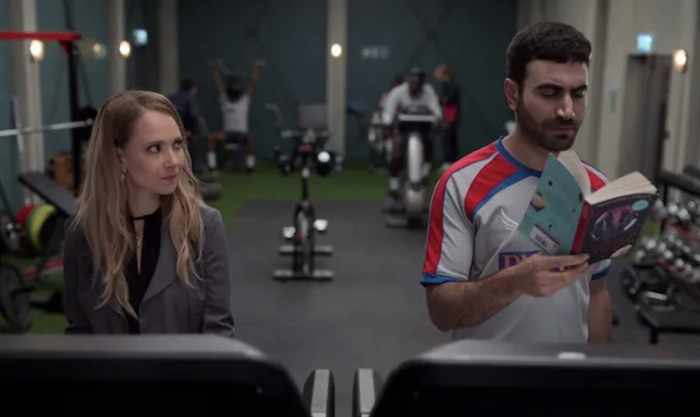 The Dharma Bums by Jack Kerouac
This well-loved copy of The Dharma Bums is shown on Ted's plane seat as he and Coach Beard are headed off to England.
This is a story of two men engaged in a passionate search for Dharma, or truth.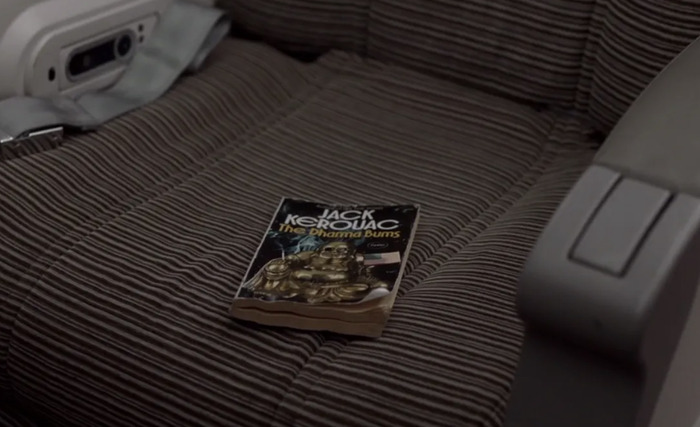 Bird by Bird by Anne Lamott
As Coach Beard and Coach Lasso walk home after coaching their first game, Beard says, "I hate losing." To which Ted replies, "Bird by bird, coach."
This is a reference to the writing book, Bird by Bird. The author shares an anecdote about her brother when they were younger. He had put off a months-long project about birds until the night before.
As he was overwhelmed, their father told him, "Bird by bird, buddy. Just take it bird by bird."
The Beautiful and The Damned by F. Scott Fitzgerald
Jamie's book assignment from Coach Lasso?
The Beautiful and The Damned is a story of Anthony Patch, a socialite and heir to a fortune, and his relationship with his wife Gloria. The novel addresses a theme common to Fitzgerald's work – the moral decline and directionless lethargy that consumed the American upper class.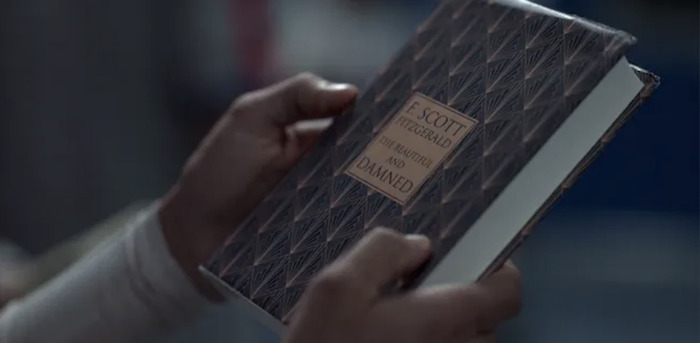 Ender's Game by Orson Scott Card
Ender's Game is Coach Lasso's book assignment for Sam. Perhaps a message to not allow himself to be underestimated?
It could also relate to Sam's reminder to Ted of the US's imperialism in Nigeria.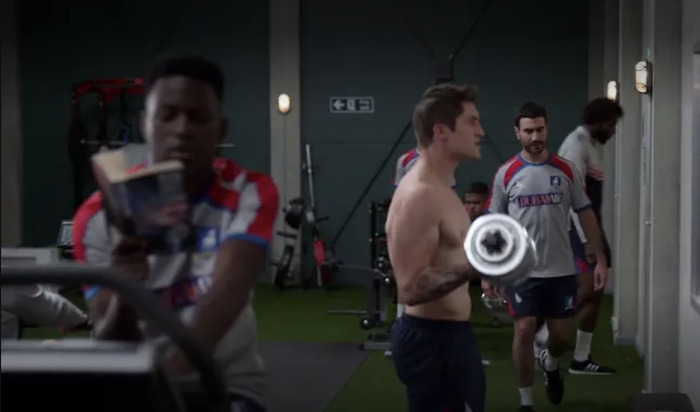 Fight Club by Chuck Palahniuk
While not directly referencing or showing the book, this is most definitely a reference to Fight Club.
Calvin and Hobbes by Bill Watterson
Ted exclaims, "What I can tell you, is that with the exception of the wit and wisdom of Calvin and Hobbes, not much lasts forever."
The Iron Man by Ted Hughes
The team watches The Iron Giant, based on The Iron Man. Ted says to Beard, "Hey, do me a favor. Keep an eye on these guys, 'cause around the 74-minute mark, there's gonna be a room full of grown men crying." Beard replies, "I'll be one of 'em."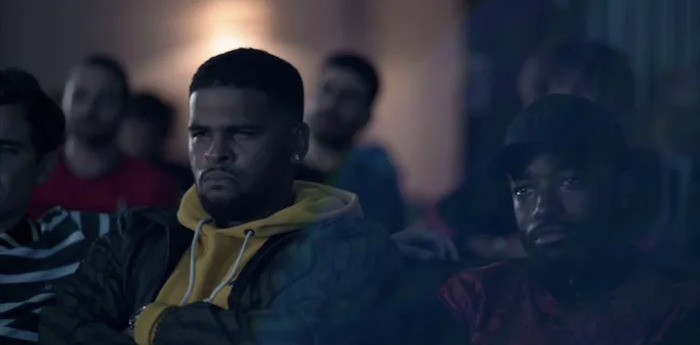 One Flew Over the Cuckoo's Nest by Ken Kesey
After Ted has a difficult conversation with Roy and Beard comes to over to comfort him, Ted says, "Coach, you are a natural-born caregiver. Life Chief from Cuckoo's Nest."
Chitty Chitty Bang Bang by Ian Fleming
One of the trick plays is called "Chitty Chitty Bang Bang," a book that was later adapted into a musical film.
Other Books Referenced Or Shown In Ted Lasso, Season 1
Coaching Soccer for Dummies and Inverting the Pyramid – both seen being read by Coach Beard on the plane.
The Wizard of Oz – While sightseeing, Ted says he thinks they're not in Kansas anymore.
The Exorcist – One of the first things Ted says to the team is a literary reference. "We're gonna call this drill The Exorcist, 'cause it's all about controlling possession."
Shoeless Joe – Ted makes a Field of Dreams reference, which was based on the book Shoeless Joe.
The Arco Book of Soccer Techniques and Tactics
Bridget Jones's Diary – Ted mentions the book in his series of milk puns
Books From Ted Lasso, Season 2
The Fountainhead by Ayn Rand
The Fountainhead is Ted's favorite book. It addresses questions through Rand's portrayal of Howard Roark, an innovative architect who "struggles for the integrity of his creative work against every form of social opposition."
The Prince of Tides by Pat Conroy
This is Dr. Sharon's favorite book and revolves around a former football player, his family, and his traumatic childhood.
The DaVinci Code by Dan Brown
Roy is seen reading The DaVinci Code throughout the episode that Keeley is needing space from him.
The Greatest: The Quest for Sporting Perfection by Matthew Syed
Beard is reading this book when the team is stuck in a rut of ties. Matthew Syed, the 'Sports Journalist of the Year 2016,' writes this wide-ranging and provocative book about the mental game of sports.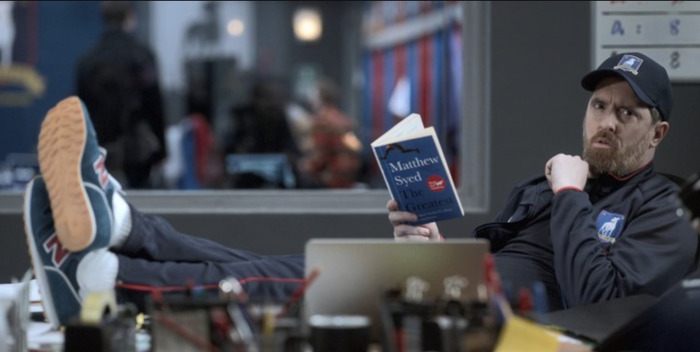 Fever Pitch by Nick Hornby
After breaking their tie streak, the team is watching the film of their loss and Beard is reading Fever Pitch. Part autobiography, part comedy, part incisive analysis of insanity, Hornby's award-winning memoir captures the fever pitch of fandom—its agony and ecstasy, its community, and its defining role in thousands of young men's coming-of-age stories. Fever Pitch is one for the home team. But above all, it is one for everyone who knows what it really means to have a losing season.
About a Boy by Nick Hornby
While reading About a Boy, Coach Beard sees Nate being cruel to Colin.
Entangled Life: How Fungi Make Our Worlds, Change Our Minds & Shape Our Futures by Merlin Sheldrake
While reading this book, Coach Beard witnesses Nate being mean to Will. In it, Merlin Sheldrake shows us the world from a fungal point of view, providing an exhilarating change of perspective.
Finding the Mother Tree: Discovering the Wisdom of the Forest by Suzanne Simard
Coach Beard refers to this book to explain to Nate how trees in forests don't compete with one another for light, but rather live in symbiosis.
Other Books Referenced Or Shown In Ted Lasso, Season 2
A Wrinkle in Time – Sam is reading a worn copy (the same book Ted Gives Roy in season 1) when he gets the news that he helped get Cerithium Oil out of Nigeria.
Football Against the Enemy by Simon Kuper