I'd like to thank the author for so generously providing me a digital copy of Heart of the Raven Prince.
All opinions are, of course, my own.
Title
Heart of the Raven Prince: A Cinderella Retelling (Entangled with Fae #2)
Book Details
Genre: Fantasy
Publication Date: August 13, 2021
Length: 446 pages
Publisher: Crystal Moon Press
ISBN: 9781955960021
Book Description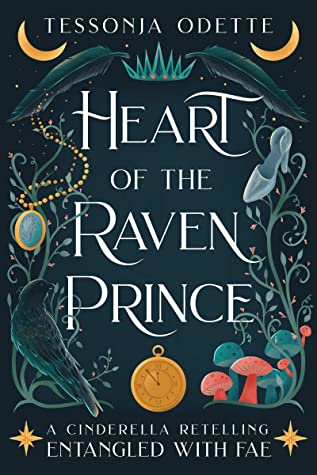 A playboy prince in want of a decoy bride.
A servant girl desperate for a disguise…
Raven shifter Prince Franco is every social-climbing debutante's dream. He's handsome, heir to the Lunar Court throne, and deliciously single. Every young woman wants to bed him, wed him, or steal a moment of his time. Except, of course, for Ember Montgomery.
Half fae Ember craves freedom from her conniving stepfamily. As if they weren't enough to deal with, a chance encounter with the arrogant Prince Franco leaves her humiliated and in a fiery rage. Nothing could convince her the prince is anything but a rake. But when the opportunity to evade her scheming stepmother falls into her lap, she'll pay the price—even if it means impersonating the prince's newest flame…
To prove himself a worthy heir, Prince Franco must marry a princess. But after far too many unsatisfying trysts, he's given up on love. With the social season in full swing, and bringing with it a horde of husband-hungry socialites, he'll do anything to delay the pressures of both marriage and the crown. And what better solution than an alliance with a desperate servant girl glamoured as his false future bride?
Locked in a bargain, Ember must pose as a princess until midnight at the full moon ball. Until then, all she has to do is wear the glamour, pretend to court the prince, and above all else, not fall in love. But when feelings emerge on both sides, she starts to wonder if there's more to their contrived courtship than either of them planned…
Can Ember and Franco find love when the masks come off? Or will illusions and lies prove stronger than their hearts?
ACOTAR meets Bridgerton in this standalone fairytale retelling of Cinderella. If you like slow-burn romance, fake engagements, and snarky fae royals, then you'll love this swoon-worthy story in the Entangled with Fae series.
Author
Tessonja Odette is an author of upper YA/NA romantic fantasy and fantasy romance. She has been writing fiction since she was a child. Her wild imagination, her love for magical things, and her fascination with the great unknown led her writing into the realm of fantasy.
She writes books about fierce heroines, elemental magic, and swoon-worthy romance. She especially loves writing books about the fae and other magical creatures.
In addition to writing, she is a multi-passionate creative with a ton of artistic hobbies. She believes in the importance of following your joy and hopes to inspire others to live their dreams.
Connect with Tessonja on her website, Twitter, Facebook, Instagram, and GoodReads.
My Thoughts & Takeaways
I love a good fairy tale retelling and I've read many good ones. I found this retelling of Cinderella to be exceptionally well done and unique. It encompassed a few tropes I love such as enemies-to-lovers and a slow-burn romance.
I really am a sucker for enemies-to-lovers and Franco and Ember are just that. The connection, the good and the bad, is perfect and just the right mixture.
The added fae elements were magical and woven into the storyline effortlessly. I don't recall ever feeling bored or like there was a lull anywhere which with almost 500 pages, is hard to do for me.
This is the second in Odette's Entageled ith Fae trilogy; however, each can be read as a stand alone novel. But, I'll be immediately reading the first one now which is a retelling of Beauty and the Beast while I wait for the final installment: The Little Mermaid retelling.