I received a copy of Tipping Point in exchange for my honest review.
All opinions are, of course, my own. I'd like to thank Rachel's Random Resources for including me on this tour.
Title
Tipping Point
Author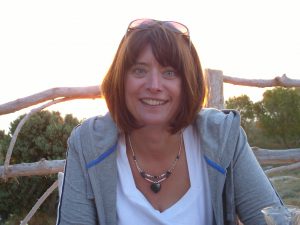 Michelle lives in Worcestershire, UK, with her husband Daniel, their two young children, and a cat called Lyra Belacqua. By day, she works for the NHS, a job which she has almost as much passion for as fiction.
Her first joyful steps into creative writing were at the age of ten, when the teacher read out her short story in class. A slapstick tale of two talking kangaroos breaking out of a zoo, the work was sadly lost to history. Still, Michelle never forgot the buzz of others enjoying her words.
More recently, she has had several flash pieces published, was long-listed for the Cambridge 2020 prize for flash fiction, and placed first in the February 2020 Writers' Forum competition with her short story The Truth About Cherry House. Tipping Point is her debut novel.
Book Details
Publication Date: September 22, 2020
Publisher: Dark Stroke Books
ISBN: 9798665937809
Book Description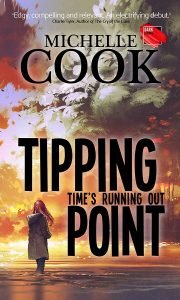 A tale of loss, manipulation, and the search for the truth.

What would you risk to turn back the tide?

Essie Glass might have been a typical eighteen-year-old – had life not dealt her an early blow.
Struggling to come to terms with the loss of her family in a terrorist attack, and left with nothing, Essie's not kidding herself about her world. She wants change, and she'll be honest about it, whatever the cost. From behind her keyboard, that is…

After all, this is England, 2035. Earth's climate continues its accelerating collapse. A powerful elite controls the disaster-weary population with propaganda, intimidation, and constant surveillance.

By all appearances, Alex Langford is a respected local businessman – until Essie discovers that he's a murderous conspirator who'd see the planet die for his fortune.

When their paths collide, Essie must decide: how much is she really willing to pay for her honesty?

Her choices, and the events she sets in motion, pit her against both enemies and supposed friends as she risks more than just her life to thwart them.

Will she succeed in revealing the truth? And will she survive?
My Thoughts & Takeaways
I love a good dystopian novel and haven't read one in a while so I was excited to pick up Tipping Point by Michelle Cook. Set in England, fifteen years from now, the ecosystem is about to get to the point of no return. Sound familiar? 
Essie Glass is a 18-year-old inhabitant of this dystopian world who lost both of her parents and her two sisters recently in a terrorist attack. 
It's kind of eery how timely this is and it doesn't feel like it would take much to tip into a "dystopian" world for real, especially in the States where I am. The police are brutal, politics are most definitely not fair and are very toxic, there's no privacy, plenty of racism, and more. 
But, where there are negatives, there are always positives. Cook displays themes of hope, friendship, making a difference, and more. 
Really enjoyed this story and look forward to reading more by Cook in the future.