There's no denying that hockey romance books have taken TikTok by storm and there's no denying that I've fallen into the icy trap myself.
These are the best ones out there that I have thoroughly enjoyed!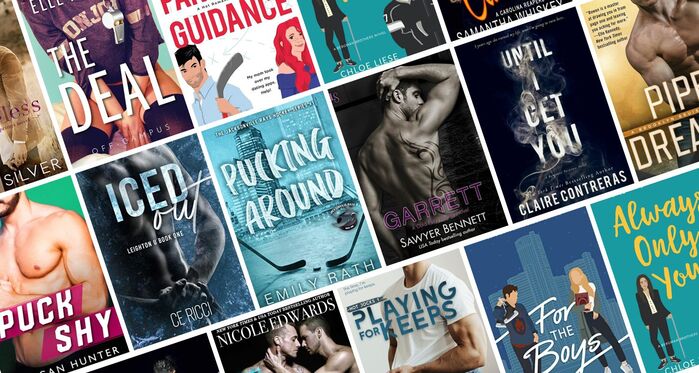 Not that it matters at all, but I was actually a hockey fan before becoming a hockey romance reader (or much of a romance reader at all). Go Nashville Predators!
But you certainly don't need to love hockey or even know anything about it to enjoy these books.
30 Hockey Romance Books
1. Pipe Dreams (Brooklyn Bruisers #3) by Sarina Bowen
Meet Mike Beacon, a true champion when it comes to defending the net. However, his luck outside the rink hasn't been as kind. As a widower and a devoted single father, he carries the cherished memories of Lauren Williams, the ex who once brought him unparalleled joy. And now, during the intense playoffs, fate reunites them as Lauren walks into the Bruisers' office.
Lauren, on the other hand, resents being compelled to travel with the team she used to work for and the man who shattered her heart. Despite the undeniable undercurrent of desire that still crackles between her and Mike, she refuses to tread that treacherous path again. Her focus lies solely on her aspirations for the future—she believes she can achieve her dreams of motherhood without the presence of a man.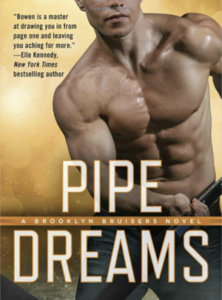 2. Good Boy by Sarina Bowen and Elle Kennedy
Good Boy by Sarina Bowen and Elle Kennedy is a rom-com roller coaster that will make you laugh, swoon, and fall head over heels in love!
Picture a story where a charming, irresistible hockey player named Blake meets Jess, a smart and sassy woman who happens to be his best friend's sister. Their chemistry is hotter than a summer bonfire, but there's one tiny problem: Jess has a strict "no dating hockey players" rule.
As they navigate hilarious misunderstandings, steamy encounters, and heartwarming moments, you'll be hooked on their journey to defy the odds and find true love. With witty dialogue, toe-curling romance, and a healthy dose of adorable puppy antics, Good Boy is a delightful and captivating tale that will leave you grinning from ear to ear.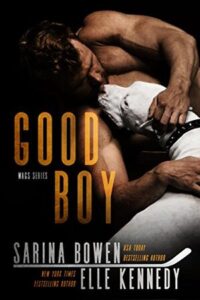 3. Icebreaker (Maple Hills #1) by Hannah Grace
Anastasia Allen has worked her entire life for a shot at Team USA.
A competitive figure skater since she was five years old, a full college scholarship thanks to her place on the Maple Hills skating team, and a schedule that would make even the most driven person weep, Stassie comes to win.
No exceptions.
Nathan Hawkins has never had a problem he couldn't solve. As captain of the Maple Hills Titans, he knows the responsibility of keeping the hockey team on the ice rests on his shoulders.
When a misunderstanding results in the two teams sharing a rink, and Anastasia's partner gets hurt in the aftermath, Nate finds himself swapping his stick for tights, and one scary coach for an even scarier one.
The pair find themselves stuck together in more ways than one, but it's fine, because Anastasia doesn't even like hockey players…right?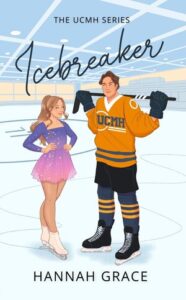 4. The Deal by Elle Kennedy
Hannah Wells has finally found someone who turns her on. But while she might be confident in every other area of her life, she's carting around a full set of baggage when it comes to sex and seduction.
If she wants to get her crush's attention, she'll have to step out of her comfort zone and make him take notice…even if it means tutoring the annoying, childish, cocky captain of the hockey team in exchange for a pretend date.
All Garrett Graham has ever wanted is to play professional hockey after graduation, but his plummeting GPA is threatening everything he's worked so hard for. If helping a sarcastic brunette make another guy jealous will help him secure his position on the team, he's all for it.
But when one unexpected kiss leads to the wildest sex of both their lives, it doesn't take long for Garrett to realize that pretending isn't going to cut it. Now he just has to convince Hannah that the man she wants looks a lot like him.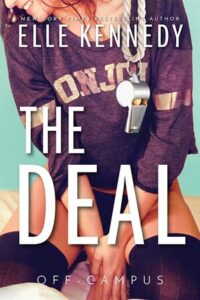 5. Him by Sarina Bowen and Elle Kennedy
Jamie Canning has never been able to figure out how he lost his closest friend. Four years ago, his tattooed, wise-cracking, rule-breaking roommate cut him off without an explanation.
So what if things got a little weird on the last night of hockey camp the summer they were eighteen? It was just a little drunken foolishness.
Ryan Wesley's biggest regret is coaxing his very straight friend into a bet that pushed the boundaries of their relationship. Now, with their college teams set to face off at the national championship, he'll finally get a chance to apologize. But all it takes is one look at his longtime crush, and the ache is stronger than ever.
Jamie has waited a long time for answers, but walks away with only more questions—can one night of sex ruin a friendship? If not, how about six more weeks of it? When Wesley turns up to coach alongside Jamie for one more hot summer at camp, Jamie has a few things to discover about his old friend…and a big one to learn about himself.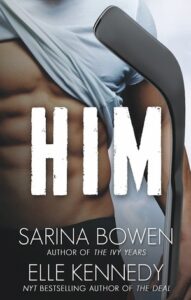 6. A Favor for a Favor by Helena Hunting
When I joined Seattle's NHL expansion team, I thought it was the start of something great. But nothing ever goes the way you expect. Take my introduction to my new neighbor. She came rolling in on the hot mess express at midnight, making a racket while she tried to get into my team captain's apartment. Did I mention that he's married to a woman who definitely was not her?
Imagine my surprise when I end up with an injury that has me out of the game for weeks, and she's the one to offer to help me. I should probably add that she's not the captain's mistress. She's his sexy, pastel-haired younger sister.
So we come up with an arrangement: she rehabs me so that I can get back on the ice sooner, and she can add a professional athlete that isn't her brother to her client list. Seems simple enough. As long as I can keep my hands to myself and my hormones in check.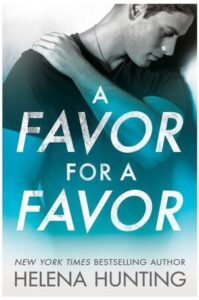 7. Playing for Keeps by Kendall Ryan
Justin is a pro hockey player and Elise is the little sister of his teammate/best friend since forever.
Elise is much more than that though. She's always been a friend and more recently the woman he can't stop thinking about.
Elise has always had a crush on Justin but knows that it will never happen. Until one night changes everything.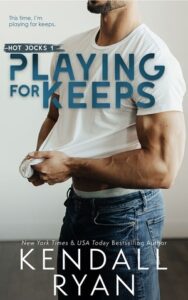 8. Puck Me Secretly by Odetta Stone
It's funny what blurts out of your mouth when the plane you're on is going down, and I didn't hold back with my seatmate when my plane decided to crash.
My hysterical confessions didn't faze the muscular stranger that sat beside me. In fact, he promised if we survived, he'd give me my first orgasm.
We survived. I came. And then he left without telling me who he was.
On the first day of my job, I stood in front of the Vancouver Wolves hockey team and called out a number – #33. Imagine my shock when he skated forward.
Max is an incredible hockey player, whose wild, out-of-control antics have almost derailed his career. So many secrets shroud his past and continue to threaten his future.
Now he's my secret. And that secret could ruin everything.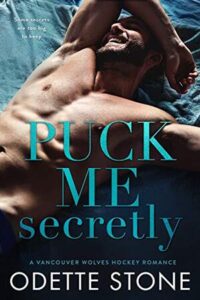 9. Boyfriend Bargain by Ilsa Madden-Mills
Zack Morgan is the king of the ice and the bedroom, but nothing prepares him for the mystery girl who shows up everywhere he does—frat parties, his favorite bar, and finally his front door with an offer he can't refuse.
The only rule in her boyfriend bargain: no falling in love.
But after one (um, two) smoking-hot hookups, he's done with pretending and vows to make their fake relationship real. Too bad she can't trust a player with a reputation for breaking hearts.
Will this hockey star score his forever girl, or will this boyfriend bargain end in heartbreak?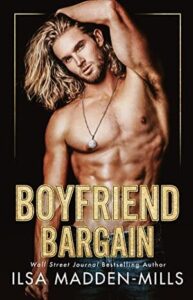 10. Game Changer by Rachel Reid
New York Admirals captain Scott Hunter takes his pregame rituals very seriously. In this case, it's not just a lucky smoothie he's craving—it's the man who made it.
Kip knew there was more to Scott's frequent visits than blended fruit, but he never let himself imagine being invited back to Scott's penthouse. Or kissed with reckless abandon, never mind touched everywhere all at once.
When it happens it's red-hot, incredible, and frequent, but also only on Scott's terms and always behind his closed apartment doors.
Scott needs Kip in his life, but with playoff season approaching, the spotlight on him is suddenly brighter than ever. He can't afford to do anything that might derail his career…like introducing the world to his boyfriend.
Kip is ready to go all-in with Scott—but how much longer will he have to remain a secret?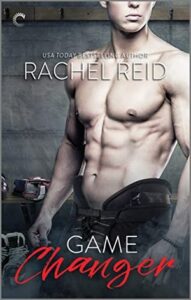 11. Cannon (Carolina Reapers #5) by Samantha Whiskey
I'm the fastest and most feared skater in the NHL. But one insane night in Vegas and I woke up married to the biggest mistake of all: Persephone VanDoren—the head of our team's charitable foundation.
She's everything I've fought against my whole life—wealthy, perfect, gorgeous, and her sharp little tongue presses every single one of my buttons.
Our fights are almost as electric as our chemistry and there is no denying the tension sizzling between us. But I'm a monster with a dark past that will ruin a princess like her.
She needs this marriage to appear real. And I need to remember it's fake.
Because the longer we stay hitched, the more I want to be her forever. The whole world views me as her personal Hades, but I'll go to war with both our demons to save her happily ever after.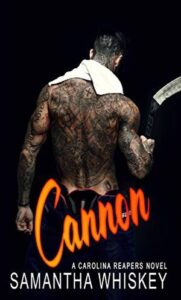 12. The New Guy by Sarina Bowen
My name is Hudson Newgate, but my teammates call me "New Guy."
That was my nickname in Chicago, too. And Vancouver. That's what happens when you keep getting traded. Brooklyn is my last chance, especially after my poor performance last season.
But I can make this work. The new guy knows to keep his head down and shoot the puck. The new guy puts the game first.
What he doesn't do is hook up with the other new guy—a hot athletic trainer who lives in my building. Gavin needs this job with my team. He's a single dad with responsibilities.
We can't be a couple. My arrogant agent–who's also my father–will lose his mind if I'm dating a dude. And my team needs me to score goals, not whip up a media circus.
Too bad Gavin and I are terrible at resisting each other…
13. Egotistical Puckboy (Puckboys #1) by Eden Finley and Saxon James
EZRA
Partying, dudes, and hockey. What more could a gay NHL player want?
If it weren't for Anton Hayes, my life would be perfect.
Not that he affects my life in any way. At all. That would imply I care what the winger from Philly thinks of me.
Which I don't.
Not even a one-night stand with him can thaw his misplaced animosity toward me.
He says I'm the one with the ego, but he can talk. He rivals me for most egotistical puck boy in the league.
I hate him as much as he hates me. Even if I crave a repeat.
ANTON
When it comes to hockey, I'm all about the game.
I've worked for years to be one of the best in the league, and l've done it without splashing my orientation all over the tabloids.
My hockey image is one I've carefully cultivated, and after one night with Ezra Palaszczuk, I risk it all.
He's cocky, obnoxious, and has an ego bigger than Massachusetts. And okay, maybe he's the sexiest man I've ever known.
We'll never get along. Not when we sleep together. Not even when my possessive streak awakens.
That doesn't stop us from falling into bed together over and over again.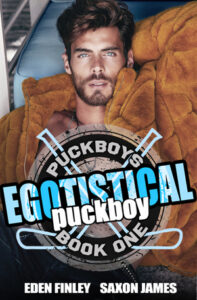 14. Iced Out by CE Ricci
My path to success never included an enemy as a teammate, especially one as infuriating as Quinton de Haas.
Clawing under my skin is his favorite pastime, only feeding the animosity between us as the years pass.
We're as completely opposite as two people can be; the golden boy and the black sheep.
Constantly at odds or at each other's throats.
The only thing we can agree on is hockey is our true love, and we'll do whatever it takes to come out on top.
I never imagined that drive would lead me to do the unthinkable: falling into bed with my not-so-straight rival.
But athletes are a superstitious bunch, and when our hook-ups lead to victories, we tell ourselves we can't stop.
Besides, it's all for the sake of the team, right?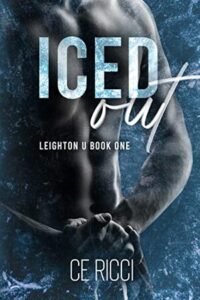 15. Zack (Cold Fury Hockey #3) by Sawyer Bennett
Rising star Zack Grantham has been stuck in a downward spiral of grief ever since the car accident that left him a single dad and put his career on hold.
Back on the road with the Carolina Cold Fury and still crippled by emotional baggage, he's in need of some serious help with his son. But while the nerdy new nanny wins his son's heart, Zack isn't sure he's ready for a woman's touch—even after getting a glimpse of the killer curves she's hiding under those baggy clothes.
Kate Francis usually keeps men like Zack at a distance. Though his athlete's body is honed to perfection, he refuses to move on with his life—and besides, he's her boss.
Still, the sparks between them are undeniable, tempting Kate to turn their professional relationship into a personal one. But before she makes a power play for Zack's wounded heart, Kate will have to open him up again and show him that love is worth the fight.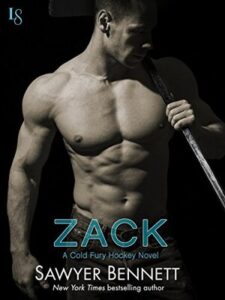 16. Always Only You by Chloe Liese
​Always Only You is an opposites-attract, forbidden love sports romance about a nerdy, late-blooming hockey star, and his tough cookie coworker who keeps both her soft side and her autism diagnosis to herself.
Complete with a meddling secretary, tantric yoga torture, and a scorching slow burn, this standalone is the second in a series of novels about a Swedish-American family of five brothers, two sisters, and their wild adventures as they each find happily ever after.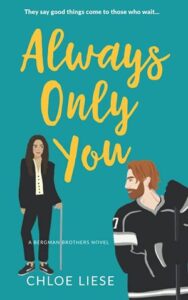 17. Brooklynaire by Sarina Bowen
You'd think a billion dollars, a professional hockey team, and a six-bedroom mansion on the Promenade would satisfy a guy. You'd be wrong.
For seven years Rebecca has brightened my office with her wit and her smile. She manages both my hockey team and my sanity. I don't know when I started waking in the night, craving her. All I know is that one whiff of her perfume ruins my concentration. And her laugh makes me hard.
When Rebecca gets hurt, I step in to help. It's what friends do. But what friends don't do is rip off each others' clothes for a single, wild night together.
Now she's avoiding me. She says we're too different, and it can never happen again. So why can't we keep our hands off each other?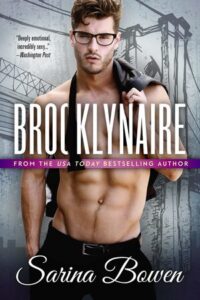 18. Garrett (Carolina Fury Hockey #2) by Sawyer Bennett
Carolina Cold Fury star Garrett Samuelson never wants to miss out on a single minute of fun. Whether he's playing hockey, hanging out with friends, or walking the red carpet with a new date on his arm, he lives every day to the fullest.
When he meets Olivia Case, he sees someone who's exactly his type—confident, sexy, smart . . . his next fling. But the more he pursues her, the more Garrett shares a side of himself that other women don't normally get to see.
Olivia has been keeping a secret. While Garrett lives for the next thrill, Olivia's not sure she'll live to see the next day. She's undergoing treatment for some serious medical issues, and she doesn't have time for a relationship with no guarantees—especially one with a hot-as-sin womanizer who won't take no for an answer.
But as she gets to know the real Garrett, Olivia can't help falling for him . . . hard. To reveal the truth would mean risking everything—but you can't score without taking the tough shots.
19. Powerless by Elsie Silver
Two childhood friends. Two broken hearts. One impromptu road trip to get away from everything. That's all this was supposed to be. After all, I've been living in the friend zone for years now.
But hockey heartthrob Jasper Gervais isn't looking at me like a friend anymore. And he isn't touching me like one either.
To his fans, he's the handsome, talented athlete on TV. But to me he's still the lost boy with sad eyes and a heart of gold.
The man I've loved in secret for years.
So when my life falls apart on my wedding day, it only makes sense that he's the one to swoop in and save me. And when his world comes crashing down around him, I'm there to return the favor.
Our feelings aren't straightforward though. They twist and turn around the pain of his past and the reality of my present.
Jasper Gervais acts like he wants me. But after years of turning me away, he's going to need to prove it.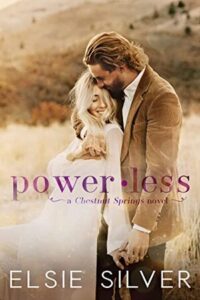 20. Taking a Shot (Play by Play #3) by Jaci Burton
The last thing Jenna Riley needs is more sports in her life. While her brothers are off being athletic superstars, she's stuck running the family's sports bar, whether she likes it or not.
Then in walks pro hockey stud Tyler Anderson. Ty, intrigued by the beautiful bar owner, becomes a regular. He senses that Jenna wants to do something more with her life.
And as he gains her trust, the passion between them grows, as does Ty's insistence that Jenna should start living for herself.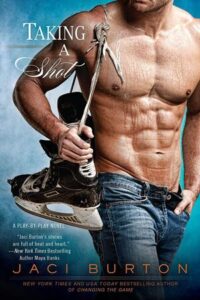 21. Harmless by Nicole Edwards
Roan Gregory, one of the four owners of Pier 70 Marina, has managed to paint himself as a loner in recent months. There's a reason for that. And he's got every intention of keeping that reason a secret. That is until he no longer has the option.
Colton Seguine, defenseman for the Austin Arrows, has gotten good at keeping the world from finding out that he's gay. He knows exactly what he can and cannot do. And with whom. That is, until he sees Roan for the first time and all bets are off.
Can Roan and Seg push past each other's defenses? Or — thanks to the way the cards have been dealt — will the time they spent together prove to be just a harmless one-night stand?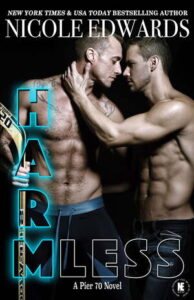 22. Off The Ice (Hat Trick #1) by Avon Gale and Piper Vaughn
Tristan Holt is nothing if not pragmatic. Despite a flourishing career as a defenseman for the Atlanta Venom, Tristan knows he can't play hockey forever. His backup plan? Finishing his business degree. But he doesn't count on a very inappropriate attraction to his standoffish sociology professor, Sebastian Cruz.
Sebastian is on the bottom rung of the Sociology Department. He has his sights set on tenure, and he can't afford to be distracted, especially not by a sexy student with a body straight out of Sebastian's dreams.
But Sebastian lives loud and proud, and Tristan is terrified of being the first out player in the NHL. Neither of them can afford to risk their hearts when they can't imagine a happily ever after. The problem is, unlike hockey, when it comes to love, there are no rules.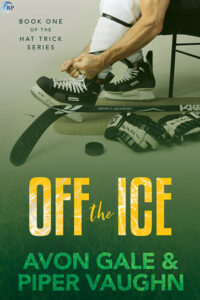 23. Parental Guidance by Avery Flynn
It wasn't me. It was my team. But as almost co-captain I raised my hand to fix it.
Never imagined they'd arrange a PR stunt to make me look like Mr. Right to someone my mom picks out on some new dating app.
Then my salvation walks into the restaurant – Zara Ambrose.
The five-foot-nothing redhead with more freckles than inches that I convinced to go on five dates with me for all the world to see.
She's got her own reasons for our setup–and her own rules. But somewhere between the couples' obstacle course, wrestling matches with her Great Dane, and fights over mashed potatoes, Zara went from means to an end to something so much more.
What happens when you start to fall for the one girl you can't have…on live TV?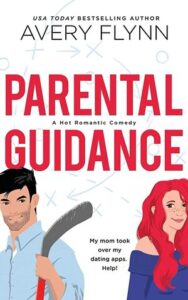 24. Room For You (Cranberry Inn #1) by Beth Ehemann
Kacie Jensen has one main priority in her life: raising her twin daughters, Lucy and Piper. Ever since her ex—the girls' father—vanished four years ago, Kacie's sworn to keep her head in her studies and her heart out of trouble. Moving back home to her mother's bed-and-breakfast had seemed like the best way to start over.
But when hockey star Brody Murphy washes up on the front steps of the Cranberry Inn during a raging storm, he awakens a hunger in Kacie that she's long forgotten…and he opens her eyes to a life she never thought was possible. With so much more to lose this time around, can Kacie trust her heart to make the right decision?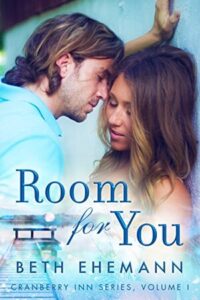 25. For the Boys by Amanda Chaperon
Berkley Daniels is no one special. Sure, she's going to be a kick-ass lawyer soon, but otherwise, she's your average 20-something. Since she started law school, the promise of her career has sustained her, no man necessary. She has great friends, a family that adores her, and a love of Detroit Warriors hockey.
Brent Jean is a professional hockey player for the Warriors. He's young, single, and living a charmed lifestyle. He has everything he could ever want and yet, something is missing. He's ready to settle down, and when he first lays eyes on Berkley, he can't help feeling she could be the one.
Too bad she won't give him the time of day. When he finally gets her attention, she's less than impressed. But she doesn't say no when he asks her out.
Things between them heat up quickly, but dating a hockey player isn't always smooth skating, and both of them have some serious emotional baggage. Will they be able to find a way to work through those hang-ups to save their relationship, or will they lose each other forever?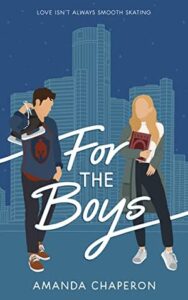 26. Until I Get You by Claire Contreras
My reputation at Fairview University preceded me. I was the projected number-one pick in the NHL draft and the fan favorite at the rink. People wanted to be me or be with me.
Except for Lyla James Marichal.
She didn't look at me like I was her next meal. She eyed me with disdain. Instead of vying for my attention, she ignored me and pushed me away.
She was completely unattainable, and I became obsessed with her.
When I finally got her, it felt like I was on top of the world. I was going to help the team win another championship, going into the draft, and had Lyla by my side.
And then, without warning, she left me.
It took me three bitter, angry, long years to find her, but I did, and now she owes me a lot more than just an explanation.
Three years ago, she ruined my life. Now, I was going to become her worst nightmare.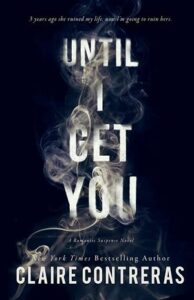 27. Puck Shy (Carolina Comets #1) by Teagan Hunter
I'm having the definition of a bad year.
Game Six loss costing my team the Cup? Check.
Getting arrested and ruining my image? Check.
Almost getting run over after my car breaks down? Oh, look—a hat trick.
My contract is up with the Carolina Comets this year, and I need to get it together if I want to stay with the team.
I need relaxation, not a relationship.
But when I'm scrolling on a dating app and stumble across the pretty girl who almost ran me over, I know I can't let her walk away this time.
Harper is funny, smart, and doesn't care about hockey.
I'm not supposed to be focusing on anything other than my career, yet I can't get Harper off my mind.
I know I shouldn't fall for her…but I think I already have.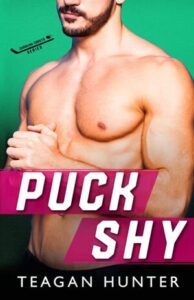 28. Pucking Around (Jacksonville Rays #1) by Emily Rath
My name is Rachel Price, and two months ago, I walked away from the perfect man. Sweet and funny, and so hot it should be illegal—we shared one magical night. No names. No strings. I never thought I'd see him again.
I was wrong. It turns out Mr. Perfect is the playboy grinder for the Jacksonville Rays, the NHL's hottest new hockey team…and I'm his new physical therapist. Oh, and the jerk doesn't even recognize me!
This fellowship is going to be the longest ten months of my life. Mr. Perfect Mistake will do anything to get back on my good side. Meanwhile, his best friend is the surly new equipment manager always riding my case. Worst of all, I've got an uncooperative goalie who thinks I can't tell he's hiding an injury!
This is my chance to prove myself, and I'm not risking it for anything. But with one unexpected night, one secret revealed, these men are ready to test all my limits. I can't fall for a player…let alone three. But if love is a game, these guys are playing to win.
PUCKING AROUND is a spicy 'why choose' hockey romance. For a full list of tropes, tags, and CWs, see the author's website.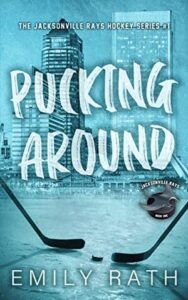 29. Offside Hearts by Nikki Lawson
Rule #1 for becoming an NHL team's social media – Don't hook up with the star center in an elevator a week before starting your new job.
Okay, so I already broke the first rule. But just because Noah Blake knows what my 'O' face looks like, that doesn't mean he'll ever get to see it again.
This job means the world to me, and I won't risk it for anything—not even for a hockey captain with a crooked smile, a dangerously talented tongue, and gorgeous blue eyes that make my heart race.
Not even when he shows up at my door to comfort me in the middle of a thunderstorm.
Not even if he's determined to show me just how incredible we could be together.
Falling for a hockey player was never part of my plan. The only problem is, there's a little voice in my head that keeps whispering…
Maybe he's right.
Offside Hearts is a contemporary hockey romance loaded with banter, feels, and deliciously spicy steam. It is a complete standalone with a HEA!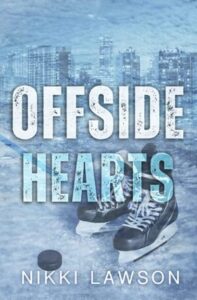 30. Right Man, Right Time (The Vancouver Agitators #3) by Meghan Quinn
A new fake dating, standalone sports romance featuring the hockey men you can't get enough of.
This steamy, age-gap romantic comedy will bring all the laughs while making your cheeks blush at the same time.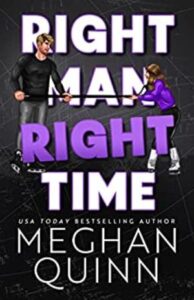 31. Mile High (Windy City #1) by Liz Tomforde
Stevie is a flight attendant and Evan Zanders plays professional hockey. She is the permeant flight attendant for the hockey season and the fraternization policy means the players are off-limits.
Zanders is the enforcer for Chicago, the bad boy, the player. But deep down, he has a lot of love to give and is a big softie.