I received a copy of Killers Keep Secrets from Netgalley in exchange for my honest review. All opinions are, of course, my own.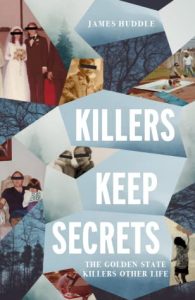 Title
Killers Keep Secrets
Author
Jim Huddle is a proud father of two daughters and six grandchildren. He is a California native who now lives in Nevada. As a photographer, he travels the western states following the warm weather and seeking his next best photograph. In the '70s, Jim served as a reservist in the Naval Air reserves. He travels throughout the year and enjoys boating, flying general aviation aircraft, and poker.
With the revelation of the Golden State Killer's identity, Jim felt the story of his relationship with Joseph James DeAngelo could help others spot behavioral warning signs of potential serial criminals. He looks forward to continuing his travels. 
Connect with Jim on GoodReads.
Publication Date
June 30, 2020
Famous First Words
"I had stopped by my daughter's house to visit on April 25, 2018, when I got the phone call. The caller ID said New York, but I wasn't expecting a call from the other side of the country. Curious, I answered and put the phone on speaker."
Book Description
In April 2018, the long-unsolved Golden State Killer case burst wide open with the shocking arrest of 72-year-old Joseph James DeAngelo, a former police officer. But no one was more stunned than the people closest to him: his family.
In this spellbinding firsthand account, Jim Huddle, DeAngelo's brother-in-law, shares the true story of the man charged with brutal, brazen rapes and murders.
From 1974 to 1986, the Golden State Killer (also known as the East Area Rapist, Visalia Ransacker, and Original Night Stalker) terrorized Californians with as many as 50 rapes, 13 murders, and countless other crimes from stalking to burglary. The perpetrator slipped through law enforcement's fingers, again and again, leaving cases cold, victims without justice, and the public in fear.
All the while, the Golden State Killer was hiding in plain sight. DeAngelo wove a web of deception, hiding his secret life for decades and fooling even those closest to him into thinking he was a normal person. But in this reflective tale, Jim shares the strange behavior that stands out, giving clues to DeAngelo's dark secrets.
To Jim, DeAngelo was his sister's husband, a man he trusted with his children, a man he thought he knew for 48 years. Walk through Jim's memories of DeAngelo, from their shared hobbies to red flags in DeAngelo's behavior that stands out sharply in hindsight. Jim also dispels myths about serial killers and shares the similarities between DeAngelo and other infamous serial murderers. Find out what it was like to be charmed by a serial killer who escaped justice for over thirty years.
My Thoughts & Takeaway
Are you fascinated by true crime? This book is a rare look at a serial killer – how they are in their day to day life according to someone close to them. 
The Golden State Killer terrorized California in the 70s-80s and then magically stopped. This case garnered a lot of attention with Michelle McNamara's book true crime I'll Be Gone in the Dark (which is now a documentary on HBO and so, so good) and then, of course, the arrest of Joseph (Joe) DeAngelo. 
Joe went undetected for thirty years and finally was caught at the age of 74. While this book was written when Joe was only accused and awaiting trial, Joe has now been convicted. 
What was this book? This wasn't beautiful prose or the next great novel. But, it was an honest, straight forward, no BS look at the Golden State Killer's life during and after the times he was an active serial killer. The author was very close to his brother-in-law for a large part of his life, especially during the times of the murders.
This book is an easy and quick read that is fascinating for anyone interested in this case, true crime, or getting into the mind of a serial killer. 
The author discussed meeting Joe and how he became a part of the family, Joe's life as a police officer, and the jobs he held after he was fired from the police force. What's really important though are the red flags that Huddle discusses in the book that he would have never (and didn't) think anything of but now in hindsight, they're chilling and glaringly obvious. 
This book won't be a detailed account of the crimes and it is definitely a telling rather than a showing. But, that's okay. Huddle isn't a writer by trade and he doesn't need to sugarcoat anything. He tells it exactly how it happened.
Favorite Quotes
"If any of the details I've shared make him mad, I'll be glad for it. I hope it'll shake him up enough to spill the rest of his secrets."