Title
Raft of Stars
Book Details
Genre: General Fiction
Publication Date: March 23, 2021
Length: 304 pages
Publisher: Ecco
ISBN: 9780063031906
Book Description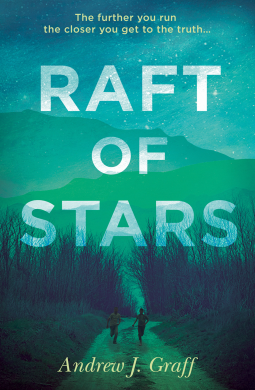 When two hardscrabble young boys think they've committed a crime, they flee into the Northwoods of Wisconsin. Will the adults trying to find and protect them reach them before it's too late?
It's the summer of 1994 in Claypot, Wisconsin, and the lives of ten-year-old Fischer "Fish" Branson and Dale "Bread" Breadwin are shaped by the two fathers they don't talk about.
One night, tired of seeing his best friend bruised and terrorized by his no-good dad, Fish takes action. A gunshot rings out and the two boys flee the scene, believing themselves murderers. They head for the woods, where they find their way onto a raft, but the natural terrors of Ironsforge gorge threaten to overwhelm them.
Four adults track them into the forest, each one on a journey of his or her own. Fish's mother Miranda, a wise woman full of fierce faith; his granddad, Teddy, who knows the woods like the back of his hand; Tiffany, a purple-haired gas station attendant and poet looking for connection; and Sheriff Cal, who's having doubts about a life in law enforcement.
The adults track the boys toward the novel's heart-pounding climax on the edge of the gorge and a conclusion that beautifully makes manifest the grace these characters find in the wilderness and one another. This timeless story of loss, hope, and adventure runs like the river itself amid the vividly rendered landscape of the Upper Midwest.
Author
Andrew J. Graff is the author of the novel, RAFT OF STARS, Ecco – HarperCollins Publishers. His fiction and essays have appeared in Image and Dappled Things. Andrew grew up fishing, hiking, and hunting in Wisconsin's Northwoods. After a tour of duty in Afghanistan, Graff earned an MFA from the Iowa Writers' Workshop. He lives in Ohio and is a visiting writing prof at Wittenberg University.
You can follow Graff on his website and Instagram.
My Thoughts & Takeaways
Fish and Bread are 10-year-old boys who are best friends. After a tragic accident, the boys run away and into the wilderness. Knowing how harsh it is, several family members, friends, and the new town sheriff go through hell trying to find them before it's too late.
The story alternates between all the characters – each their own complex self. The writing is vivid and detailed and the story is strongly character-driven.
This is Graff's debut novel and I look forward to seeing what comes next. I'd recommend this to anyone who likes a book with adventure, character-driven stories, and coming-of-age stories.