I'd like to thank Roaring Book Press and Netgalley for so generously providing me a copy of She Drives Me Crazy.
All opinions are, of course, my own.
Title
She Drives Me Crazy
Book Details
Genre: YA LGBTQ+ Romance
Publication Date: April 20, 2021
Length: 304 pages
Publisher: Roaring Brook Press
ISBN: 9781250209153
Content Warning(s): homophobia, alcohol consumption
Book Description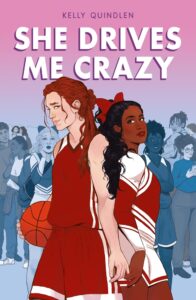 High school nemeses fall in love in this queer YA rom-com perfect for fans of Becky Albertalli and Casey McQuisten.
After losing spectacularly to her ex-girlfriend in their first game since their break up, Scottie Zajac gets into a fender bender with the worst possible person: her nemesis, the incredibly beautiful and incredibly mean Irene Abraham. Things only get worse when their nosey, do-gooder moms get involved and the girls are forced to carpool together until Irene's car gets out of the shop.
Their bumpy start only gets bumpier the more time they spend together. But when an opportunity presents itself for Scottie to get back at her toxic ex (and climb her school's social ladder at the same time), she bribes Irene into playing along. Hijinks, heartbreak, and gay fake-dating scheme for the ages. From author Kelly Quindlen comes a new laugh-out-loud romp through the ups and downs of teen romance.
Author
Kelly wrote her first story, a gripping tale about the Easter Bunny when she was six years old. Her traditional debut, Late to the Party, releases April 21, 2020, from Macmillan/Roaring Brook Press. She is also the author of the self-published novel Her Name in the Sky, which was featured on BuzzFeed, Bustle, and AfterEllen.
Kelly graduated from Vanderbilt University with a degree in English Literature and American Studies. She spent two years teaching middle school math with Teach for America in Baton Rouge, Louisiana. She currently lives in Atlanta, where she is on the leadership team of a non-profit for Catholic parents with LGBT children.
You can follow her on her website, Instagram, Twitter, and Goodreads. 
My Thoughts & Takeaways
She Drives Me Crazy by Kelly Quinland is a sapphic YA rom-com that includes an enemes-to-lovers trope, basketball, cheerleading, and more.
Basketball player Scottie wants payback after her girlfriend dumped her right before transferring schools and cheerleading captain Irene are arch-rivals that just got into a fender bender.
This was like an 80s-style rom-com meets a lovely LGBTQ+ story. What we get is a realistic look into high school relationships but with queer romance, interracial couples, and learning how to have healthy boundaries. And, none of the harmful tropes like co-dependency or token diversity.
Highly recommend this one!