I received a copy of The Dark Land from Hidden Gem Books in exchange for my honest review. All opinions are, of course, my own.
Title
The Dark Land
Author
D.M. Shepard pulled up anchor at 18 and joined the Navy to escape her small town in the Mojave desert. Through many twists and turns, she made her way north to Alaska. She came for a job but stayed for the adventure. When she's not playing with live electricity, she's out exploring what Alaska has to offer or hanging out at her off-grid cabin near the tiny community of Chicken with her husband, Ray.
She blends together her experiences in STEM into her own brand of Suspense, Horror, and Romance.
Publication Date
April 21, 2020
Why I Picked It Up
Because I love anything about Alaska, horror stories, and supernatural/paranormal/myths. This book rolls all those things into one.
Famous First Words
"Bryan swigged the cheap whiskey, coughing and swearing as the spirits burned a hot trail down his gullet."
Book Description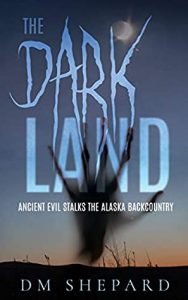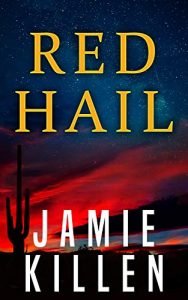 A dark tale of legendary creatures stalking the isolated trails of Wrangell-St. Elias National Park in the deep cold of winter. Lured by her high peaks and vast forests, adventurers swarm to the siren call of Alaska's backcountry. Her harsh bite scars many. Some never return. Please find my son's remains…Haunted by the last request of her foster mother, experienced outdoorswoman, Rose Long, skis into the Wrangell-St. Elias wilderness to search for clues surrounding the missing man. Concerned about the suspicious circumstances surrounding the older woman's death, her childhood friend, Ulrik, joins the quest to protect the woman he secretly loves. Ancient evil seethes in the ice-locked boreal forest, watching their every move during the long northern nights. The legend of the Headless Ravine is steeped in blood. The Dark Land's hunger for flesh never sleeps, even in the deepest cold of winter—and it has marked Rose as its next victim.
My Thoughts & Takeaways
The Dark Land is an action-packed journey in the backcountry of Alaska. The reader is transported to the Last Frontier – somewhere that I've always been fascinated with. Many people go missing in the wild and what's more wild and rugged than Alaska – the perfect backdrop for horror and mystery.
The characters are relatable and likable. Rose is equal parts feminine and badass and doesn't need a man to take care of her, but Ulrik is there by her side when she needs it most. Also, there are fluffy dogs with awesome names and clearly the author loves Norse mythology which is always a win in my book.
I really enjoyed this quick read. I love horror, mythology, and things that go bump in the night. It truly showed that you can pack a large punch in a small package. Looking forward to more stories about the spooky things in Alaska from this author.