Sometimes I get so caught up in all the books I've wanted to read for so long, that I own and never read, and so I forget to keep up with upcoming book releases. But, after reading 100 books in 2020 and 130 in 2021, and 75 in 2022 (post-quarantine life kicked in), with several being new releases, I'm fully addicted to the hype. So, I'm excited to put together this list of 2023 book releases in anticipation.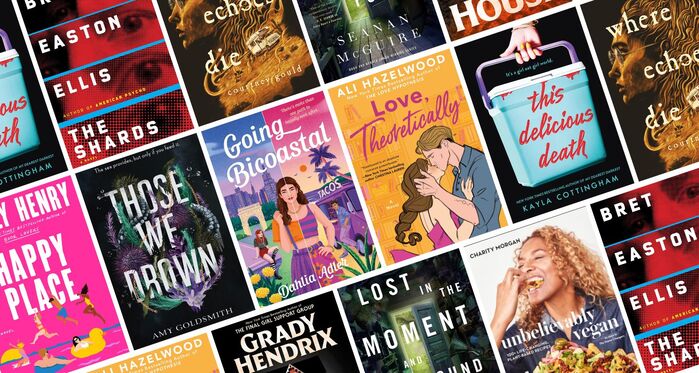 These upcoming 2023 book releases are so exciting that I'll never get that TBR pile down anytime soon.
This list will continuously be updated so check back often!
2023 Book Releases
January 2023 Releases
Highly Suspicious and Unfairly Cute by Talia Hibbert
From the New York Times bestselling author of the Brown Sisters trilogy comes a laugh-out-loud story about a quirky content creator and a clean-cut athlete testing their abilities to survive the great outdoors—and each other.
Date: January 3rd
Hell Bent by Leigh Bardugo
Wealth. Power. Murder. Magic. The Ivy League is going straight to hell in the sequel to the smash New York Times bestseller Ninth House from #1 bestselling author Leigh Bardugo.
Amazon > Bookshop
Date: January 10th
Lost in the Moment and Found by Seanan McGuire
A young girl discovers an infinite variety of worlds in this standalone tale in the Hugo and Nebula Award-winning Wayward Children series.
Date: January 10th
All the Dangerous Things by Stacy Willingham
Following up her instant New York Times bestseller, A Flicker in the Dark, Stacy Willingham delivers a totally gripping thriller about a desperate mother with a troubled past in All the Dangerous Things.
Date: January 10th
How to Sell a Haunted House by Grady Hendrix
When their parents die at the tail end of the coronavirus pandemic, Louise and Mark Joyner are devastated but nothing can prepare them for how bad things are about to get. The two siblings are almost totally estranged, and couldn't be more different. Now, however, they don't have a choice but to get along. The virus has passed, and both of them are facing bank accounts ravaged by the economic meltdown. Their one asset? Their childhood home. They need to get it on the market as soon as possible because they need the money. Yet before her parents died they taped newspaper over the mirrors and nailed shut the attic door.
Amazon > Bookshop
Date: January 17th
The Shards by Bret Easton Ellis
A novel of sensational literary and psychological suspense from the best-selling author of Less Than Zero and American Psycho that tracks a group of privileged high school friends in a vibrantly fictionalized 1980s, Los Angeles, as a serial killer strikes across the city
Amazon > Bookshop
Date: January 17th
What Lies in the Woods by Kate Alice Marshall
Kate Alice Marshall's What Lies in the Woods is a thrilling novel about friendship, secrets, betrayal, and lies – and having the courage to face the past.
Date: January 17th
Godkiller by Hannah Kaner
Kissen is a godkiller and great at her job. But a chance encounter with Skediceth, the god of white lies, and a little noble girl on the run might make her reconsider her occupation. Elogast has purged the city of thousands of shrines before laying down his sword, but when a summons from the King sends him on a quest, Kissen and Elogast are put on a collision course neither of them could have anticipated.
Date: January 19th
February 2023 Releases
Skull Water by Heinz Insu Fenkl
A "mesmerizing" (James McBride), "magnificent" (Ha Jin) intergenerational coming-of-age novel set in South Korea—about friendship, belonging, and displacement.
Date: February 7
On the Savage Side by Tiffany McDaniel
Six women—mothers, daughters, sisters—gone missing. Inspired by the unsolved murders of the Chillicothe Six, this harrowing novel tells the story of two sisters, both of whom could be the next victims, from the internationally best-selling author of Betty.
Date: February 14
The Writing Retreat by Julia Bartz
The Plot meets Please Join Us in this psychological suspense debut about a young author at an exclusive writer's retreat that descends into a nightmare.
Date: February 21
Where Darkness Blooms by Andrea Hannah
Andrea Hannah's Where Darkness Blooms is a supernatural thriller about an eerie town where the sunflowers whisper secrets and the land hungers for blood.
Date: February 21
March 2023 Releases
A Witch's Guide to Fake Dating a Demon by Sarah Hawley
Mariel Spark knows not to trust a demon, especially one that wants her soul, but what's a witch to do when he won't leave her side—and she kind of doesn't want him to?
Amazon > Bookshop
Date: March 7th
Feed Them Silence by Lee Mandelo
What does it mean to "be-in-kind" with a nonhuman animal? Or in Dr. Sean Kell-Luddon's case, to be in-kind with one of the last remaining wild wolves? Using a neurological interface to translate her animal subject's perception through her own mind, Sean intends to chase both her scientific curiosity and her secret, lifelong desire to experience the intimacy and freedom of wolfishness. To see the world through animal eyes; smell the forest, thick with olfactory messages; even taste the blood and viscera of a fresh kill. And, above all, to feel the belonging of the pack.
Amazon > Bookshop
Date: March 14th
Brother & Sister Enter the Forest by Richard Mirabella
Opening like a fairy tale and ending like a nightmare, this cannonball of a queer coming-of-age novel follows a young man's relationship with a violent older boyfriend—and how he and his sister survive a terrible crime.
Date: March 14th
Greymist Fair by Francesca Zappia
The villagers of Greymist Fair know that the woods are a dangerous and magical place, and that they should never set foot off the road. But when a young tailor discovers a body, her search for the culprit reveals even more strange and dark happenings around her town.
Date: March 28th
April 2023 Releases
Silver in the Bone by Alexandra Bracken
#1 New York Times bestselling author Alexandra Bracken cements her status as one of the top fantasy authors writing today in this stunning series opener inspired by Arthurian legend and fueled by love, revenge, and pure adrenaline!
Amazon > Bookshop
Date: April 4th
Happy Place by Emily Henry
A couple who broke up months ago makes a pact to pretend to still be together for their annual weeklong vacation with their best friends in this glittering and wise new novel.
Amazon > Bookshop
Date: April 25th
In the Lives of Puppets by T.J. Klune
In a strange little home built into the branches of a grove of trees, live three robots–fatherly inventor android Giovanni Lawson, a pleasantly sadistic nurse machine, and a small vacuum desperate for love and attention. Victor Lawson, a human, lives there too. They're a family, hidden and safe.
The day Vic salvages and repairs an unfamiliar android labeled "HAP," he learns of a shared dark past between Hap and Gio-a past spent hunting humans.
When Hap unwittingly alerts robots from Gio's former life to their whereabouts, the family is no longer hidden and safe. Gio is captured and taken back to his old laboratory in the City of Electric Dreams. So together, the rest of Vic's assembled family must journey across an unforgiving and otherworldly country to rescue Gio from decommission, or worse, reprogramming.
Along the way to save Gio, amid conflicted feelings of betrayal and affection for Hap, Vic must decide for himself: Can he accept love with strings attached?
Amazon > Bookshop
Date: April 25th
This Delicious Death by Kayla Cottingham
From the author of the New York Times bestselling My Dearest Darkest comes another incredible sapphic horror. When four best friends with a hunger for human flesh attend a music festival in the desert they discover a murderous plot to expose and vilify the girls and everyone like them. This summer is going to get gory.
May 2023 Releases
June 2023 Releases
Love, Theoretically by Ali Hazelwood
Rival physicists collide in a vortex of academic feuds and fake dating shenanigans in this delightfully STEMinist romcom from the New York Times bestselling author of The Love Hypothesis and Love on the Brain.
Date: June 13th
Going Bicoastal by Dahlia Adler
A queer Sliding Doors YA rom-com in which a girl must choose between summer in NYC with her dad (and the girl she's always wanted) or LA with her estranged mom (and the guy she never saw coming).
Date: June 13th
The Only One Left by Riley Sager
Bestselling author Riley Sager returns with a Gothic chiller about a young caregiver assigned to work for a woman accused of a Lizzie Borden-like massacre decades earlier.
Date: June 20th
Where Echos Die by Courtney Gould
Two sisters travel to an isolated Arizona town to investigate its connection to their mother's death but uncover more than they bargained for in this supernatural thriller from the author of The Dead and the Dark.
Date: June 20th
July 2023 Releases
Goodbye Earl by Leesa Cross-Smith
Four women take fate into their own hands in this big-hearted story of friendship, resilience, and revenge on monstrous men, from the award-winning author of Half-Blown Rose. 
Date: July 3rd
Those We Drown by Amy Goldsmith
An ocean-drenched, atmospheric horror debut! Liv's best friend disappears on their first night aboard their dream semester-at-sea program—but is he really sick, like everyone says, or is something darker lurking beneath the water?
Date: July 11th
Silver Nitrate by Silvia Moreno-Garcia
From the New York Times bestselling author of The Daughter of Doctor Moreau and Mexican Gothic comes a fabulous meld of Mexican horror movies and Nazi occultism: a dark thriller about the curse that haunts a legendary lost film—and awakens one woman's hidden powers.
Amazon > Bookshop
Date: July 18th
The Weaver and the Witch Queen by Genevieve Gornichec
The lives of two women—one desperate only to save her missing sister, the other a witch destined to become queen of Norway—intertwine in this spellbinding, powerful novel of Viking Age history and myth from the acclaimed author of The Witch's Heart.
Date: July 25th
August 2023 Releases
The Déjà Glitch by Holly James
To break out of a 24-hour time loop, all Jack needs is for Gemma to fall in love with him in a single day. All Gemma needs is to remember him first …
Amazon > Bookshop
Date: August 1st
September 2023 Releases
Percy Jackson and the Olympians: The Chalice of the Gods by Rick Riordan
The original heroes from The Lightning Thief are reunited for their biggest challenge yet: getting Percy to college when the gods are standing in his way.
Date: September 26th
October 2023 Releases
November 2023 Releases
December 2023 Releases